Ueberschall Elastik Demo Soundbank 2017 [FREE]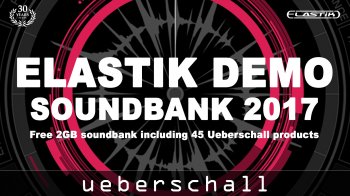 2gb|Soundbank|Free
2 GB of highest quality loops and samples for free with our new demo soundbank. The library uses our free Elastik sample player, includes sounds from 45 different Ueberschall libraries and spans a huge range of different genres.
The Elastik Player runs on macOS and Windows, 32/64-bit, AAX, VST, AU and Stand-Alone.
Loops are taken from these libraries:
60s Psychedelic Rock, 70s Funk Rock, 80s Synthwave, Ambient Noises, Balkan Lines, Beyond Tech House, Brasil Nova Primeiro, Chillout Lounge 2, Crunk, Cumbia Digital, Dancehall Madness, Deep House, Disco Tape, Dubtechno, Electro House 2, Finest RnB, Future Garage, Glam Rock, Glitch Art, Hardtechno vs Schranz, Indie Rock 3, Jazz Lounge, Metal, Neo Soul, Neurofunk, Nightshift, Nouvelle Discotheque, Oriental RnB, Punk Rock, Rare Grooves Vol. 1, Reggae Fundamentals, Sounds of Berlin, Soundscapes, Synth Phunk, Synth Pop, Techno ID, Thrash Metal, Trance ID 2, Trap, Twang, Uplifting Trance, Urbanic 2, Vocal Dance Hits, Vocal House, Wonky Toys.