REQ: Alexander Publishing Alex North 2001 Bones [Main Title] Orchestration and Composition Course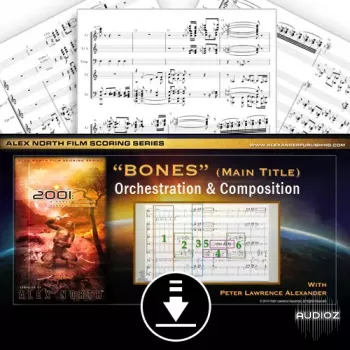 This 75-minute video lecture course complements the release of the Orchestral Study Score of Alex North's Main Title cue "Bones", originally written for the movie 2001: A Space Odyssey.
As well as the video lectures, the course includes 3 different condensed PDF scores of the Bones/Main Title cue with onscreen score excerpts matched to audio from the original 1968 film scoring session. This way what you see, you hear. Color-coded score excerpts matched to audio make it easy for nearly anyone to follow along with the videos - even if your music reading skills aren't great. Also included is our special video-version Spectrotone Chart (does not include the PDF training guides which you can find in the full version of the Spectrotone Instrumental Tone-Color Chart).
Website: