REQ: Pro Mix Academy - The Ultimate Protools Course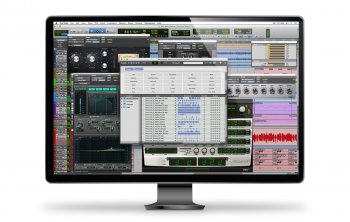 Master The World's Most Powerful DAW With One Comprehensive Guide
by AVID Master instructor & Berkeley lecturer Jon Connolly
Part I: ProTools Masterclass with Jon Connelly
Start Out On The Right Foot: System Setup and Optimization
There is nothing more frustrating than having a fantastic song idea, but being unable to lay it down due to system glitches.
Jon teaches you how to configure Protools properly from the get-go and shows you how to optimize your settings, to ensure your sessions run smoothly every time creativity hits.
-Connect Your Interface: Create I/O Templates
-Choose The Right Playback Engine
-Reduce Latency – Improve Processing Power
-Optimize Your Operating System
-Calibrate Your Speakers
Discover Hidden Treasures In Protools
ProTools provides several amazing free plugins and VST instruments that barly anyone knows about!
Make sure to get the most out of your license by downloading these additional tools and start crafting professional songs without paying an extra penny.
Express Yourself Though Your Art: Recording
As musicans, producers or songwriters, our main goals is to express our feelings and share them with the world.
However, in order to capture an accurate repesentation of our performance, there are many factors that need to be considered.
Learn everything you need to know about Recording in ProTools: How to record one – or multiple tracks at once, set the perfect levels, create seprate headphone mixes for each musican & more.
Stay In Your Creative Flow – By Mastering The Technical Side!
An inefficient workflow can hinder your creative process like nothing else.
Have you ever had a super-clear idea for a new part or sound in your head – and then spent HOURS trying to figure out how to achieve it?
It can take you out of your creative zone right away!
Jon teaches you a highly efficient workflow that will allow you to navigate any recording and mixing session with ease – so you can stay in the creative zone without having to worry about the technical.
Make Your Music Sound Polished and Professional: Mixing
Do you wish the drummer had hit the Snare move evenly in his performance?
Make a vocal sound more intimate by adding some silky highend?
Maybe Make the bass sound fatter, or give your song a 3-dimensional and specious feel?
With ProTools, that's no problem at all!
Master foundational concepts like Compression, EQ, Reverb, FX all the way to hardware inserts and achieve the sound you're hearing in your head with ease.
Enhance Performances While Maintaining Vibe: Editing
When recording, we are looking to capture a vibe that expresses what we feel in this perticular moment. That also means that not every take will be perfect – and that's absolutely fine!
By using ProTool's powerful editing capabilities, you'll be able to easily fix the casual off-note and make your performances sound stellar and professional, while maintaining the feel of the song.
Fix Ocassional ProTools Errors
Ideally, we would love our DAWs to work seamlessly every hour of the day.
Unfortuntaly that's not always the case. – Trust me, the occasional glitch even occurs in the best studios of the world!
As a professional ProTools Tech for major studios, such as Warner Bros., Universal Studios, Capitol, The Village and more, Jon has experienced it all.
And he shows you how to fix common issues quickly with ease!
Being able to deal with glitches in a timely manner allows the bands you're working with to stay in the creative zone and will grant you serious respect from producers.
Part II: Music Production & Mixing with Grammy-Winner Phil Allen
A Real Life, Step By Step Guide To Producing Hit Records
Do you have great song ideas, but can't quite figure out how to morph them into huge sounding productions that have the potential to be successful and attract new fans on youtube, soundcloud or the radio?
Then this course is for you!
Get inside the head of Grammy winning producer/engineer Phil Allen and learn his recording strategies and creative decision making process when producing a record:
See how he tackles mic placement, gain staging, song arrangement, tracking, overdubs and editing and vocal tuning.
Transform Rough Song Ideas Into Full Blown Radio-Ready Productions
Watch Phil Allen take a rough guitar-vocal demo of the song " Of This I'm Sure" by Morgan Mallory and transform it into a massive pop production.
Phil explains each step of the record production process: From refining the original song idea and finding the right tempo, to recording a scratch track and adding multiple layers of instrumentation to make the song come to life.
This is an honest look at the WHOLE record making process, including mistakes, so you can learn every step that goes into producing a modern pop song.
Arrangment & Instrumentation
Arrangement is one of the main factors for a successful song: Only if the song works well as a whole, people fall in love with it.
Learn how to arrange your instruments, pick the right parts and instrumentation enhance the song while maintaining its original feel.
Come up with harmonies, find additional layers and textures that compliment and support the main musical elements.
Recording: Get Great Sounds At The Source
The goal of every engineer should be to create recordings that sound as close to the final record as possible. This course will show you how:
From recording drums and bass, to vocals, electric and acoustic guitars, upright piano and auxiliary instruments – Phil teaches you how get the best sound out of each instrument using various micing techniques and placements.
Most of the microphones Phil uses are below $500, recorded from the the mic-pre staight into Pro Tools – no fancy outboard gear needed!
It's All About The Performance:
-Learn how to interact with your artists and help them perform at their best.
-Achieve the sound you're after not by tweaking the gear, but by switching up your performance: From vocal intonation to guitar picking and bass performance.
-Lock in the groove in a recording situation every time.
Bring Out The Best In Your Recordings:
Refine and edit your recordings to lay the foundation for a great mix.
Learn how to fix timing issues, tune vocals and comp your tracks to feature the best parts of each performance.
Make your edits sound natural and "invisible".
"You don't need to go out and buy a ton of plugin suites to get this stuff to work. The plugins that come with protools are pretty dang good as long as you use them correctly." – Phil Allen
Watch Phil Allen mix this whole session almost exclusively with stock plugins. Rip off his techniques and learn to craft mixes with more clarity and impact, more dimension and depth, that can proudly stand next to anything else in your iTunes playlist.
Transform your home recordings into full sounding, radio ready mixes:
Phil Allen shows you how mix a pop song that has been recorded without any outboard gear, straight into protools – just like any home studio recording. Learn the mixing techniques and concepts you need to transform your raw recordings into full sounding, radio ready mix.