Hip Hop Uncovered S01E01-06 1080p WEB H264-KOGi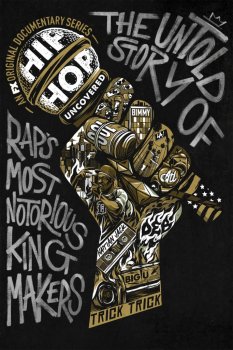 MKV | AC3 | E01 - 2.22 GB | E02 - 1.96 GB | E03 - 2.11 GB | E04 - 2.08 GB | E05 - 2.08 GB | E06 - 2.17 GB
Set against 40 years of music history, this six-part documentary series takes a deep dive into the paradox of America's criminalization of the genre and its fascination with the street culture that created it and still exists within it. Instead of telling the story of hip hop from the top down, this documentary tells the story from the streets up, as it reveals the untold story of how America's streets helped shape hip hop culture from an expression of survival and defiance into music's most dominant genre.
Season 1, Episode 01 – "A Child Is Born With No State of Mind"
Hip Hop Uncovered introduces five main contributors (Big U, Deb, Trick Trick, Bimmy and Haitian Jack). They are the unsung heroes of hip hop's legacy. They are the men and women who worked in the shadows to affect hip hop at the highest levels.
Season 1, Episode 02 – "Cash Rules Everything Around Me"
Our OGs learn to hustle, hoping to make a better life for their families. The lessons they learn provide them unique business acumen that will one day serve them in the music business.
Season 1, Episode 03 – "Shit's Real"
Our OGs get more involved with the music. They learn the details of management, producing and developing artists. However, their pasts catch up to them. By the time of civil unrest in 1992 Los Angeles, the main contributors found themselves doing time.
Season 1, Episode 04 – "Things Just Ain't the Same for Gangstas"
As the drug game dried up in the streets, a new hustle emerged…hip hop. After time in prison, we catch up with the five main contributors: Big U manages Kurupt, Deb moves to Atlanta, Haitian Jack works with the Fugees, Bimmy is hired at Def Jam and Trick Trick records his first album.
Season 1, Episode 05 – "Industry Rule Number 4080: Record Company People Are Shady"
With hip hop becoming the world's most popular music genre, our OGs find themselves facing a dilemma, join the establishment or keep to the code of the street?
Season 1, Episode 06 – "Victory Lap"
Our contributors become modern-day Robin Hoods as they change their communities for the better through leadership. As 2020 is ushered in, hip hop now faces its largest challenge yet. Will it be the voice of the oppressed during historic times?
added new episodes. PiRAT