Truefire - Muriel Anderson's Essentials: Fingerstyle Guitar (2015)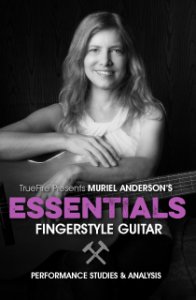 Publisher: Truefire | Language: English
Video: MP4, 864x486 (16:9), 971 Kbps, 29.970 fps
Audio: MP3, 128 Kbps, 44100 Khz, 2 channels
Size: 848 Mb | Length: 02h 06min
One of the world's foremost fingerstyle guitarists and harp-guitarists, Muriel Anderson has performed and recorded with Chet Atkins, Les Paul, Victor Wooten and the Nashville Chamber Orchestra. Her recent CD Nightlight Daylight has already won 11 national awards and Muriel is also the first woman to have won the National Fingerstyle Guitar Championship.
Fortunately for we fingerstyle guitar players, Muriel is also a passionate educator as you'll experience for yourself here in her latest TrueFire course, Essentials: Fingerstyle Guitar.
Ideal for intermediate players, Muriel has hand-picked 10 fingerstyle arrangements that are easy to play and sound great, across a variety of styles and tunings. She will first perform the arrangement and then break it down for you, measure-by-measure, emphasizing the key concepts, techniques and creative approaches.
The tunes also contain licks from some of the most popular traditional fingerstyle tunes, making it easier to learn many tunes and giving you a window into the best of the repertoire.
To advance as a fingerstyle guitar player, it's essential to keep learning tunes that are inspiring and fun yet push your technique a little bit further each time. Learning different styles and other player's approaches for arranging melodies bolsters your own technique and builds the creative skills you need for composing and arranging you own material."
Muriel will first perform the arrangement and then break it down for you, measure-by-measure, emphasizing the key concepts, techniques and creative approaches used in the performance study.
Settling The Spirit- "I'd like to encourage you to relax and enjoy the music as you learn to create it. This tune is created with that in mind, so take it a little at a time, and pay attention to the beauty of the tone as you play it. There are some hints in the video to help make the right and left hand more efficient. These ideas, like figuring out which fingers can stay down and which ones moved only slightly, can be used in all your tunes to help you be more efficient with your practice time."
Scarborough Fair- "In this tune, we'll play the melody in the bass with the thumb and fill it in with bits of arpeggio. If you're ready for a little more challenge, the second time through we'll take a lick from Paul Simon's version, tossing it in wherever there is room on the Am chord. Scarborough Fair has a cool 6/8 time pattern over a 3/4 time song, using the fingers in a different order than usual. If you'd like to expand the arrangement, you can also play the melody an octave higher and work in the new lick wherever you can fit it in.
Riffle- "This tune is similar to the song "Singing in the Country," for which we'll drop the sixth string down to a low D to get some nice open strings, making it easier to alternate back and forth with the thumb while playing a melody with the fingers. The second time through we'll take some notes on the second string in higher positions, and you'll see that as long as you keep your fingers in a good rounded position that it's no harder than first position. In fact, it may be easier as the frets are a little closer together.
Islamorada- "Here the sixth string is tuned down to a low D, and the fifth string is down a whole step to a G—an octave from the third string. We'll play this simple melody in first position, and then up the neck an octave higher. In the second half, there's one section that can be played using a full bar. Since no other fingers are required on the left hand, you can push the middle finger against the index finger to help hold down the bar. The most important thing is to keep the timing consistent and to keep the Chet Atkins/Merle Travis style alternating bass going.
Hawaiian Lullaby- "The vocal version of this tune (sung in Hawaiian by Mark Kibble and myself) is on my Nightlight Daylight album. It makes a nice instrumental, and the main theme serves as an easy introduction to the slack key sound. There are a couple chord changes that require a bit of a stretch, but we'll explore some easier ways to play them in the breakdown. Aloha!
Everything Blues- "I grew up in the Chicago area and heard a lot of blues. This one is typical of what I heard from the blues musicians at the Old Town School of Folk Music in the 70's, which can still be heard today. I like the feel of the repeated bass note and tri-tone intervals that hint at the dominant seventh chords. This is a blues that doesn't take itself too seriously, so you can write your own lyrics to it...maybe about losing downright everything or listing everything that gives you the blues.
Auld Lang Syne- "For this tune, I'll go over two basic approaches that can be used for many tunes. First, we'll look at a simple chord melody in which we'll play the chords and find each melody note as the top voice of the chords. Then we'll work on a fingerpicking arrangement that uses a similar approach, playing the alternating bass for each chord with the thumb and finding the melody notes on top, played with the fingers of the right hand.
Romanza- "This tune is an old Spanish folk song and one of the most requested tunes in the classical guitar repertoire. We'll introduce some of the most important right hand techniques in classical guitar. It is three groups of three notes each, with the bass note on the first of each three groups. The melody is on the first string throughout, so using a rest stroke or slice acts as a perfect vehicle to bring it out.
Vivaldi Concerto in D- "This beautiful melody was written as the second movement of the concerto for guitar and orchestra, but it's also nice as a guitar solo. It moves slowly and only has open strings in the bass, so it's easy to work in vibrato by rocking the left hand back and forth. The rhythm is a dotted pattern typical of some baroque music. You may have played some tunes that have more of a triplet feel, but since the long notes are a little longer and short notes are a little shorter, it's exaggerated lilt gives it a more authentic baroque feel.
Blue Bell- "Merle Travis' arrangement of Bluebell is a classic in the fingerstyle guitar repertoire. I tried to keep some of the best parts of his arrangement while making it easier to learn. This arrangement uses a lot of the techniques and ideas we've explored up to this point. Towards the end, an easy way to make the hinge bar described in the breakdown is by bringing the left elbow forward just enough so that the top strings are open and the lowest strings are still covered by the bar. Once this is under your fingers, you can explore some other variations and nuances in Merle Travis' and/or other versions of Bluebell.
All of the performances are tabbed and notated for your practice, reference and study purposes. You'll also get Guitar Pro files so that you can play, loop and/or slow down any section of the tab and notation as you work through the lessons.
Grab your guitar and let's get pickin' with Muriel Anderson!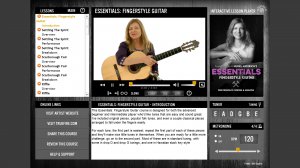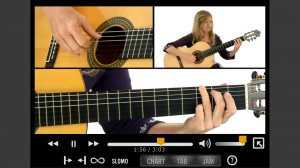 Reuploaded. PiRAT