Truefire - David Hamburger's Essentials: Fingerstyle Blues (2015)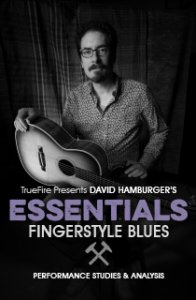 Publisher: Truefire | Language: English
Video: MP4, 864x486 (16:9), 971 Kbps, 29.970 fps
Audio: MP3, 128 Kbps, 44100 Khz, 2 channels
Size: 729 Mb | Length: 01h 46min
Fingerstyle and blues go together like peanut butter and jelly. Sure, nothing wrong with a peanut butter sandwich on its own, but spread a little jelly into the mix and things start to take on a whole new dimension. Spread a little fingerstyle into your blues repertoire and ears start turning your way, plus it's a blast to play.
If you're already into fingerstyle blues, feel free to skip the following propaganda, click it and add these 10 solid fingerstyle blues grooves to your playlist. The 10 performance studies cover a variety of feels, tempos, keys and all are designed to give you plenty of room and flexibility to tweak, stretch and overall make them your own.
If you just dabble in fingerstyle, or are now ready to finally give it a go, David Hamburger's Essentials: Fingerstyle Blues is the ideal fretboard sandbox to dive into and get your fingerstyle blues bag sparked up. Intermediate flat-pick players will find the tunes to be very accessible, especially with David's move-by-move guidance.
"In Essentials: Fingerstyle Blues, we're going to explore ten different blues tunes in a variety of keys, tempos and grooves. Using both the steady bass and alternating thumb approach, we'll check out essential articulations including hammer-ons, pull-offs, slides and quarter tone bends. We'll learn about rhythmic anticipations and how they're used to create syncopations on the blues. Using 12-bar, 24-bar and AABA forms in both standard and dropped-D tuning, we'll work with pickup phrases, jump blues chord voicings and jazz chord substitutions. Finally, we'll look at how to make bright keys like C and G sound funkier using minor pentatonic scales, and why call-and-response phrasing is key to improving your overall musicality."
David cuts right to the chase in the edition of Essentials: Fingerstyle Blues. No boring exercises or tedious theory to struggle through - you will play your way through 10 Performance Studies, which include a performance demonstration and detailed move-by-move breakdown supplemented with tab, notation and Guitar Pro files.
Here's David's descriptions of the 10 Performance Studies:
The Vamp: "A one-bar minor pentatonic lick over a steady bass followed by a one-bar vamp figure in the key of E. Despite hanging on just one chord the whole way through, this tune still has a kind of AAB form, just like a twelve-bar blues. We'll look at how to combine call-and-response phrasing with minor pentatonic licks and get into some details about the essential techniques of hammering on, pulling off, sliding, and doing quarter-tone bends."
Prospect Shuffle: "In this tune we'll take the steady-bass coordination, various articulations and call-and-response approach and put them through the paces on a full 24-bar blues chord progression. A twenty-four bar blues is typically just a twelve-bar blues in which you stay on every chord for twice as long. Keep an eye out for the ongoing transitions between the single-note licks in open position and the double-stop answering riffs up at the 7th and 5th frets."
Persia and Moose: "With this tune, we look at playing a twelve-bar steady-bass blues in Dropped D tuning. By lowering the low E string by a whole step, to D, we get DADGBE, which allows us to play almost all the same chord forms and scale shapes as in standard tuning, but with a low D in the bass. Chords with a root on the sixth string like E and G do require a little tweaking, as you'll see. In this case, we swap out a standard G chord for a G7/B, or a G7 chord with the third of the chord, the note B, in the bass."
Slow Fuse: "A slow blues in E with a triplet feel. This kind of call and response between single-note licks and a more double-stop-based vamp is something I've been exploring a lot in my own playing lately. In particular, I've been inspired to do so by the playing of jazz guitarist Ed Bickert. Which may seem like an odd place to get ideas for fingerstyle blues, but if you check out the way Bickert drops in his own chord commentary during his single-note soloing on records like I Wished On The Moon and Out of the Past, you'll see what I mean."
Marco Cohen Rides Again: "I was first exposed to dropped-D tuning while learning arrangements from Stefan Grossman's Guitar Player column in the late 1970s. Two things were immediately apparent: one, dropped-D tuning makes all of your D chords sound amazing, and two, you have to learn new fingerings for most of the rest of the chords you thought you already knew. But only most. In Marco Cohen Rides Again, the root of the IV chord, G, is played at the 5th fret of the low E string, but the A minor and C chords are unaffected because their roots are on the 5th string."
Route 103: "The main notion in this tune, that you can get a lot of mileage out of the top three strings even while holding down a low G, was no doubt influenced by "Spike Driver Blues," Mississippi John Hurt's version of the John Henry story. Originally recorded in 1928, "Spike Driver Blues" was one of two John Hurt songs included on the Harry Smith Anthology of Folk Music in the 1950s and as such was a huge influence on folk revival musicians of the 1950s and 1960s. Hurt's tune stayed on G throughout; ours includes a double turnaround that will take us through D7 and C7, alternating the thumb the whole time."
C Horse: "Like the key of G, the key of C has a tendency to sound bright and major, and there are plenty of definitive alternating-thumb classics in C, from Blind Boy Fuller's "Rag Mama Rag" andJohn Hurt's "My Creole Belle" to Merle Travis' "Goodbye My Bluebell" and Reverend Gary Davis' "Candy Man." But while these tunes all exploit the brightness of C major, there are some funkier, more minor pentatonic-based sounds to be coaxed from these familiar shapes, and with C Horse we'll look at how to do so."
Letter to Alfred: "Anticipations are a kind of rhythmic equivalent to the articulations we've been working with. One slide or hammer-on doesn't make that big a difference, but take them all out and you're left with something relatively lifeless. Anticipations are just as important. Bringing just a few melody notes an eighth note ahead of the downbeat makes everything sound more syncopated and interesting. And once you get how that works, you can apply anticipations to almost any melody to make it more propulsive and exciting."
Jumping To Conclusions: This kind of half-stepping into the chords happens all over the blues, at various tempos, and the compact three-note 13th chord voicings we're using here pack a lot of sound into just a few notes. If you've never encountered them before, it may take a little practice before you can just grab them quickly, but they don't use any more fingers than any open chord you know. That's what I tell myself, at least, when I run into some weird new voicing that's giving me fits."
Parisian Blues: "With this tune, we'll take the basic twelve-bar form (plus a four-bar tag) and a couple of 13th and 9th chord voicings and use them to create a more lyrical, atmospheric kind of blues. We're in dropped-D tuning, and by mixing up-the-neck voicings with open strings and incorporating the alternating thumb into the melodic flow, we can evoke an entirely different sort of mood from anything we've done so far. finally, we'll work on a more contemporary approach to the blues form with some exotic voicings."
All in all, David Hamburger's Essentials: Fingerstyle Blues delivers plenty of jelly for your blues bag. Click on!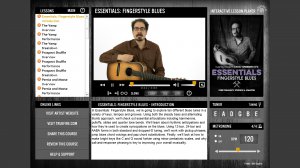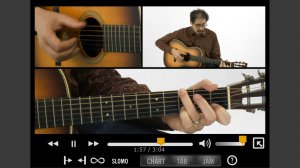 Reuploaded. PiRAT