Truefire Josh Smith Live Plus Blues Insights Ep.01 TUTORiAL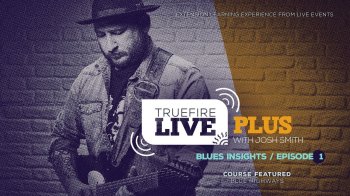 P2P | 17 October 2020 | 2 GB
In this episode of Live Plus: Blues Insights, Josh Smith goes deeper and wider on the concepts and techniques presented in his Blue Highways course. Using the same backing tracks he used in the course, all of Josh's performances are fresh and original applications of his Blues Highways principles — and they're ALL tabbed and video-synced!
You'll get standard notation and tabs for all of the performance studies. Plus, you'll be able to use TrueFire's learning tools to sync the tab and notation to the video lesson. You can also loop or slow down the videos so that you can work with the lessons at your own pace. All of the backing tracks are included to work with on your own as well.
Grab your guitar and let's go Live Plus with Josh Smith!
Includes
20 Video Lessons
6 Charts (.pdf)
6 Jam Tracks (.mp3)
6 Tabs (.gp5 or .ptb)
Runtime: 01:07:28