Truefire - Richard Van Bergen - Down Home Boogie & Blues Guidebook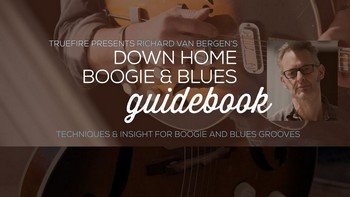 Publisher: Truefire | Language: English
Video: MP4, 960x540 (16:9), 971 Kbps, 29.970 fps
Audio: MP3, 192 Kbps, 48 Khz, 2 channels
Size: 310 Mb
The down home country blues grooves pioneered by legendary pre-war blues artists will live
on forever, both in their original form and as the foundation for more contemporary blues
grooves. Richard van Bergen's Down Home Boogie & Blues Guidebook will take you on a
learning journey through a versatile collection of swamp pop, boogie-woogie, rhythm &
blues, and early Chicago blues grooves.
"There's nothing more exciting and sexy as a stripped down boogie groove as played by John
Lee Hooker, RL Burnside or Fred McDowell. Just a man and his guitar could set fire to a
Mississippi juke-joint and make people holler, stomp their feet and dance till the break of
dawn.
Blues can be haunting, emotional and strictly personal - just listen to recordings by Skip
James or Blind Willie Johnson. But these bluesmen had a broad repertoire to choose from.
And when it came to playing the Saturday night fish fry or any kind of party down south, it
was dance music. It was boogie time!"
You'll learn to play in the style of the blues artists who pioneered the evolution of pre-
war country blues in swampy Louisiana to the electric blues explosion that followed in the
smoky blues clubs of Chicago, Houston, and Detroit.
As you work through the course, Richard will demonstrate and break down 16 versatile "down
home" grooves and variations that work in a solo setting or with a band, on either acoustic
or electric guitar. In addition, Richard also gives 7 more grooves with backing tracks so
that you can work specifically on a band setting.
Richard will explain and demonstrate all of the key concepts and approaches along the way.
You'll get standard notation and tabs for all of the performance examples. Plus, Richard
includes all of the rhythm tracks for you to work with on your own. In addition, you'll be
able to loop or slow down any of the videos so that you can work with the lessons at your
own pace.
Grab your guitar and let's go down home with Richard van Bergen!
password: 913h5kpe