Truefire - Mimi Fox - Jazz Trio Comping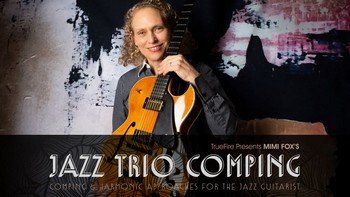 Publisher: Truefire | Language: English
Video: MP4, 960x540 (16:9), 971 Kbps, 29.970 fps
Audio: MP3, 192 Kbps, 48 Khz, 2 channels
Size: 693 Mb
Comping in a trio setting is a critical skill for the jazz guitarist. Chord selection,
locking in with the rhythm section, playing in different meters, establishing the harmonic
texture and character of the tune -- these are all crucial responsibilities.
Play your way through the 10 comping performance studies in Mimi Fox's Jazz Trio Comping
course and you'll be well-equipped to hold up your end of the bargain in any rhythm
section, on any jazz bandstand.
Mimi will guide you through performance studies based on the most commonly-encountered jazz changes in a variety of feels, tempos and keys. Along the way, she'll show you a a wide
range of comping techniques, chord voicings, rhythm patterns, and harmonic approaches.
For each of the 10 comping performance studies, Mimi will first perform the parts over a
backing track followed by a detailed analysis and application summary.
Mimi will explain and demonstrate all of the key concepts and approaches along the way.
You'll get standard notation and tabs for all of the Comping Performance Studies. Plus,
Mimi includes all of the rhythm tracks for you to work with on your own. In addition,
you'll be able to loop or slow down any of the videos so that you can work with the lessons
at your own pace.
Grab your guitar and let's comp some changes with Mimi Fox!