Truefire - Mimi Fox - Jazz chord punches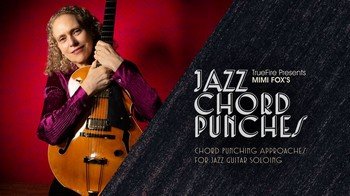 Publisher: Truefire | Language: English
Video: MP4, 960x540 (16:9), 971 Kbps, 29.970 fps
Audio: MP3, 192 Kbps, 48 Khz, 2 channels
Size: 691 Mb
A critical skill for any jazz guitarist is knowing how and when to punch chords when
soloing, especially in a jazz trio setting. Mimi Fox's Jazz Chord Punches will show you 8
essential approaches for comping and punching chords. Then, Mimi will show you how to apply those approaches across 5 performance studies in a variety of feels, tempos, and keys.
"This course is designed to make you a well-rounded player capable of playing in a guitar
trio situation with intelligence and confidence. Being able to punch chords in the midst of
playing single lines is one of the trademarks of sophisticated jazz guitar playing.
Mastering this technique will also allow you to play successfully in solo, duo (with
bassist/vocalist/other instruments) and in many other contexts.
There are many different concepts that we will be covering in this course! It's important
to take one segment at a time and really dig into it! You don't have to follow the order of
the course segments… feel free to skip around and explore. And be sure to use all the great
tools that TrueFire provides to aid your learning process."
You'll get standard notation and tabs for all of the performance studies. Plus, Mimi
includes all of the rhythm tracks for you to work with on your own. In addition, you'll be
able to loop or slow down any of the videos so that you can work with the lessons at your
own pace.
Grab your guitar and let's punch some chords with Mimi Fox!