Truefire - Jeff McErlain - Two Guitar Blues Grooves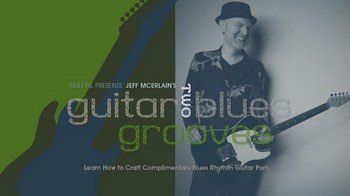 Publisher: Truefire | Language: English
Video: MP4, 960x540 (16:9), 971 Kbps, 29.970 fps
Audio: MP3, 192 Kbps, 44.1 Khz, 2 channels
Size: 1.17 Gb
More often than not you'll find yourself playing with another guitar player at the local
blues jam or on the gig, and you'll both be playing rhythm guitar a majority of the time to
support a vocalist or other soloist. The last thing you want to do is play the same or even
a similar rhythm guitar part because that muddies up the rhythm section and does little to
enhance the overall sound. So what should you do? Easy…
Start by digging into Jeff McErlain's Two Guitar Blues Grooves and work through the 10 sets
of rhythm guitar performance studies (20 rhythm guitar parts in total!) that Jeff prepared
to expand your rhythm part vocabulary and impart priceless guidance for crafting two-guitar
rhythm parts.
"As guitarists we play rhythm guitar much more than lead guitar in most settings. And when
we're in a two guitar situation, this can complicate matters as to what to play and how to
best fit in. In this course, we'll work through 10 of the most commonly encountered blues
tunes and I'll show you some really effective rhythm part approaches for playing with
another guitarist. All in all, you'll pick up 20 distinctive rhythm guitar parts that
you'll be able to use in hundreds of blues tunes, in any jam or band setting!"
Jeff will demonstrate, and breakdown in detail, two distinctive, complementary rhythm
guitar parts for 10 blues progressions, in different feels and tempos, based on popular,
commonly encountered blues tunes.
Each set of of these 10 rhythm performances features two multi-angle videos for both rhythm
parts, two breakdown videos for each part, plus a playalong video displaying both parts
being performed in split-screen view.
Jeff will explain and demonstrate all of the key concepts and approaches along the way.
You'll get standard notation and tabs for all of the performance studies. Plus, Jeff
includes all of the rhythm tracks for you to work with on your own. In addition, you'll be
able to loop or slow down any of the videos so that you can work with the lessons at your
own pace.