Truefire - Fareed Haque - 30 beginner jazz licks you must know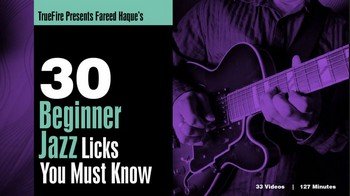 Publisher: Truefire | Language: English
Video: MP4, 960x540 (16:9), 971 Kbps, 29.970 fps
Audio: MP3, 192 Kbps, 44.1 Khz, 2 channels
Size: 831 Mb
Developing a vocabulary of jazz licks is the first step for learning how to solo and
improvise over jazz progressions and songs. Every jazz guitar player learns pretty much the
same beginning vocabulary of jazz licks and then, with time and practice, transforms them
into their own distinctive jazz guitar sound. To help kick-start your own jazz lick
vocabulary, Fareed Haque hand-picked 30 Beginner Jazz Licks You MUST Know to ensure that
they were easy to learn and also very versatile.
These 30 beginner jazz guitar licks can be played over a variety of chord changes, and all
of them can be connected with other licks to form longer phrases and solos. All of the
licks are also 'moveable' so that you can move them up and down the fretboard and play them
over jazz changes in any key.
You'll not only expand your vocabulary for soloing and improvisation, but you'll also build
a solid foundation of essential jazz guitar techniques such as slides, hammers, pull-offs
and rakes. You'll not only expand your vocabulary for soloing and improvisation, you'll also build solid foundations in essential jazz guitar techniques. "Jazz guitar players not only rely
on their vocabulary of licks to power their improvisations, they also must have command of
a variety of techniques to give their licks personality and authenticity. I'll break down
all of the licks for you note-by-note but I'll also teach you how to properly execute the
technique being used to play the lick. I'll guide you step-by-step through the process of
making them come to life!"
Fareed demonstrates all of the licks over rhythm tracks and then breaks them down note-by-
note showing you the techniques you'll need to have command of to play the licks correctly.
All of the licks are tabbed and notated for your practice, reference and study purposes.
You'll also get Guitar Pro files so that you can play, loop and/or slow down the tab and
notation as you work through the lessons. Plus, Fareed generously includes all of the
rhythm tracks for you to work with on your own.
Grab your guitar and let's play some jazz with Fareed Haque!