Truefire - David Hamburger - Blues alchemy Post war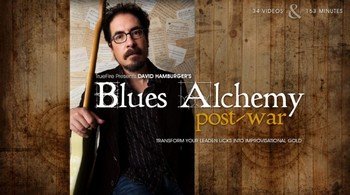 Publisher: Truefire | Language: English
Video: MP4, 960x540 (16:9), 971 Kbps, 29.970 fps
Audio: MP3, 192 Kbps, 44.1 Khz, 2 channels
Size: 872 Mb
As American roots music became electrified in the years after World War II, blues musicians in thriving urban centers like Chicago and Los Angeles began transforming earlier, prewar blues sounds into a variety of vibrant, groove-oriented styles. The innovative sounds and vocabularies first waxed by icons like T-Bone Walker, Muddy Waters, Lightnin' Hopkins and Ray Charles in the 1950s still form the foundation of every modern blues musicians' sensibilities.
In David Hamburger's Post War edition of Blues Alchemy you'll play your way through eight essential 'Post War' grooves, while learning how to combine the fundamental pentatonic blues vocabulary with more sophisticated approaches for soloing and playing the changes.
"In my Post War edition of Blues Alchemy, you'll learn how to use eight classic 1950's blues grooves as jumping-off points for your own improvising. Whether the chord progression is a one-chord Howlin' Wolf vamp or a sophisticated Ray Charles-style blues ballad, you'll learn how to transform your basic pentatonic moves with a combination of double stops, open position licks, swing phrasing, and jazz chromaticism so you can play through the changes while staying true to the feeling of the blues."
For each of the eight Performance Studies, David not only presents a solo for you to learn, he'll also give you alternative licks, approaches and techniques to incorporate into your improvisations. David demonstrates all of the Performance Studies over rhythm tracks and then breaks them down by stepping you through the key concepts and techniques employed in the solo.
All of the Performance Studies are tabbed and notated for your practice, reference and study purposes. You'll also get Guitar Pro files so that you can loop and/or slow any section down as you work through the lessons. Plus, David generously includes all of the rhythm tracks for you to work with on your own.
Grab your guitar and let's play the changes with David Hamburger!