Truefire - David Hamburger - 30 blues intros, turnarounds, and endings you must know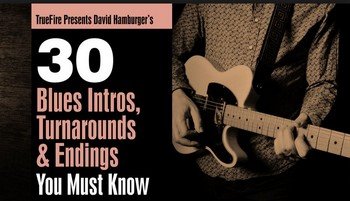 Publisher: Truefire | Language: English
Video: MP4, 960x540 (16:9), 971 Kbps, 29.970 fps
Audio: MP3, 192 Kbps, 44.1 Khz, 2 channels
Size: 533 Mb
Intros, turnarounds, and endings are the key moments that really frame a blues song, and with the right moves at your fingertips, you can make the most of these moments.
In this collection of 30 Blues Intros, Turnarounds, and Endings, David Hamburger will teach you two intros, two turnarounds and two endings for each of five essential blues grooves — a shuffle, boogaloo, slow blues, minor blues and a jazz blues. Wrap your hands around these licks to start turning your jams into songs, and sound good doing so.
"Keith Moon supposedly said, all that matters is how you start and how you finish - that's all they're going to remember. I'd add: they'll also notice if you play some cool turnarounds in the middle, too!
For each of the 30 intros, turnarounds and endings in this collection, David will first perform the lick over a backing track and then break it down for you note-by-note.
David will explain and demonstrate all of the key concepts and approaches along the way. You'll get standard notation and tabs for each of the Intros, turnarounds and endings. Plus, David includes all of the rhythm tracks for you to work with on your own. In addition, you'll be able to loop or slow down any of the videos so that you can work with the lessons at your own pace.
Grab your guitar and let's dig in with David Hamburger!
Fixed. satch