Truefire James Hogan - Groove Guitar Lead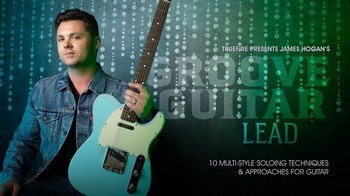 Publisher: Truefire | Language: English
Video: MP4, 960x540 (16:9), 971 Kbps, 29.970 fps
Audio: MP3, 192 Kbps, 48 Khz, 2 channels
Size: 565 Mb
All of our guitar heroes have one thing in common -- they know how to lock their solos into
the groove, whatever style they're playing.
James Hogan's Lead Guitar Edition of Groove Guitar will help you develop this essential
skill by covering 10 essential lead guitar concepts showcasing a wide variety of feels,
styles and techniques including Jazz, Blues, Funk, Rock, Country, Gospel, Pop, and R&B
styled grooves.
"Whether you're an intermediate player in need of some new ideas or a seasoned pro just
looking for a refresher, I think you'll get a lot out of the material I'll be presenting
here in this Lead Guitar edition of Groove Guitar.
We'll definitely be covering a ton of ground with some killer licks and tricks across a
wide variety of popular grooves!"
For each of the 10 soloing performance studies, James will first perform the solos over a
backing track, and then break them down for you detailing all of the right- and left-hand
techniques being used, as well as the creative and harmonic approaches required to pull off
the lead guitar parts authentically.
James will explain and demonstrate all of the key concepts and approaches along the way.
You'll get standard notation and tabs for all of the soloing performances. Plus, James
includes all of the backing tracks for you to work with on your own. In addition, you'll be
able to loop or slow down any of the videos so that you can work with the lessons at your
own pace.
Grab your guitar and let's get in the 'groove' with James Hogan!