Truefire Reinier Voet - Gypsy Jazz Melodic Soloing Guidebook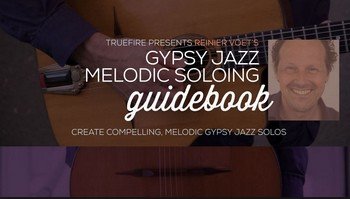 Publisher: Truefire | Language: English
Video: MP4, 960x540 (16:9), 971 Kbps, 29.970 fps
Audio: MP3, 160 Kbps, 44.1 Khz, 2 channels
Size: 528 Mb
Building a strong melodic solo is one of the most important skills an improviser needs,
especially when soloing in the Gypsy Jazz style. You need to use solid building blocks to
structure and present your solo into a seamless, engaging story that your audience will
want to listen to.
Master Gypsy Jazz guitarist, Reinier Voet will focus on this essential skill here in the
Melodic Soloing In Gypsy Jazz Guidebook Reinier will demonstrate how to use the melody of
the tune as an inspiration and then embellish it with a variety of improvisational tools
and techniques. You'll learn how to spice melodic solos up with minor6th arpeggios,
chromatic runs, tritone substitutes, diminished runs, and much more.
"I'll show you some standard melodies and offer you several ways to construct a strong
melodic solo. These solo performance studies will give you a solid grip on all the key
concepts and you'll learn how to be more creative and flexible in your solos. And, they're
all great technical guitar etudes and you'll find them a lot of fun to play!"
For each of the five performance studies, Reinier will focus on and demonstrate key Gypsy
Jazz guitar techniques and concepts and then perform a solo applying those techniques and
approaches in play.??
Reinier will explain and demonstrate all of the key concepts and approaches along the way.
You'll get standard notation and tabs for all of the performance studies. Plus, Reinier
includes all of the rhythm tracks for you to work with on your own. In addition, you'll be
able to loop or slow down any of the videos so that you can work with the lessons at your
own pace.
Grab your guitar and let's get gypsy with Reinier Voet!