Truefire Tony Smotherman - Classical Flatpicking Explorations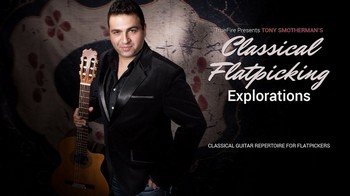 Publisher: Truefire | Language: English
Video: MP4, 960x540 (16:9), 971 Kbps, 29.970 fps
Audio: MP3, 192 Kbps, 48 Khz, 2 channels
Size: 474 Mb
The right and left-hand fingerstyle techniques that are commonly associated with classical
guitar can be pretty intimidating for flatpickers. Yet, virtually any classical composition
can also be played with a pick. Tony Smotherman has arranged 10 solo flatpicking studies
inspired by the most popular classical guitarists and composers.
These 10 compelling arrangements will jumpstart your repertoire of flatpicking classical
pieces. Play them for family, friends or even on your next solo gig. You'll also benefit
from the engaging melodic approaches common in classical music, which will enrich your
solos and compositions, whatever style you play.
"We're going to dig deep inside the magic of classical music and learn from the greatest
masters of all time. You'll gain a wealth of knowledge and reap the benefits of all the
technique, musicality, and movement from these 10 essential pieces I've chosen.
The best part… you don't have to dedicate your entire life to classical music to perform
these incredible pieces! I'm going to show you how using a pick can be just as musically
expressive in classical music as your fingers. Not only will you have 10 beautiful pieces
to perform, you'll be hooked on the classics just like I am."
Tony will guide you through all 10 classical flatpicking arrangements. He'll perform each
study for you and then break down the performance emphasizing all of the key techniques and principles you should focus on.
Tony will explain and demonstrate all of the key techniques along the way. You'll get
standard notation and tab for all of the performance studies. In addition, you'll be able
to loop or slow down any section of the performances so that you can work with the
materials at your own pace.
Grab your guitar and pick — let's get classical with Tony Smotherman