Truefire Zoumana Diarra - West African Guidebook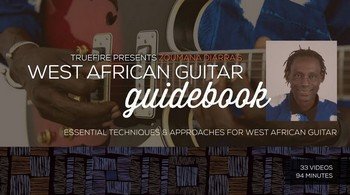 Publisher: Truefire | Language: English
Video: MP4, 960x540 (16:9), 971 Kbps, 29.970 fps
Audio: MP3, 192 Kbps, 48 Khz, 2 channels
Size: 565 Mb
The juxtaposed rhythmic patterns and simple, engaging melodies characteristic of
traditional West African music has influenced many contemporary styles of music.
Ethnomusicologist Gerhard Kubik traced the roots of the blues back to West Africa, calling
it the "cradle of the blues." Also rooted in West African music, Afro-Caribbean music
eventually migrated to the USA to help shape jazz.
Paul Simon, Ry Cooder, Taj Mahal, Corey Harris and many other artists and guitarists have
successfully explored African rhythms and melodies across pop, rock, blues, folk, and jazz
genres. Now you can too! Grab a window seat on the tour bus and join Zoumana Diarra - a
Griot from Mali in West Africa - as he leads you on a tour across the West African Guitar
soundscape.
Zoumana Diarra is a Griot. Griots are a kind of Troubadour, a traveling musician or singer
who knows the history of a local tribe or family and makes sure that stories are told, re-
told and kept for posterity. The traditional instruments of a Griot are Kora, Balafon,
Djembe, and Ngoni. Today guitar has an important role in the music a Griot plays. We're
very excited to welcome Zoumana to the family with his first TrueFire course, The West
African Guitar Guidebook.
Zoumana demonstrates and guides you through eleven essential styles and grooves that
originated from different West African Countries. You'll learn how to play Bambara (Mali),
African Rumba (Senegal/Congo), Minuit, Gumbe (Guinee Bissau), Highlife (Ghana), Manding
(Senegal/Burkina Faso/Ivory Coast) , Soukous (Congo), Njaro (Sahara desert), Mali Blues,
Gwe Gwe (Ivory Coast) and Methode Kora. Each of these West African styles has several
melodies, which when played together form intricate, compelling grooves.