Truefire Rory Ronde - Soul Jazz Signatures Guidebook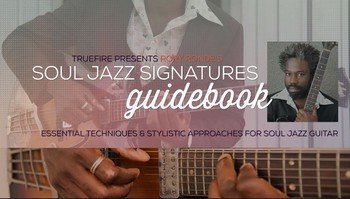 Publisher: Truefire | Language: English
Video: MP4, 960x540 (16:9), 971 Kbps, 29.970 fps
Audio: MP3, 192 Kbps, 48 Khz, 2 channels
Size: 468 Mb
Whether you're looking to jazz up your blues, inject a little soul into your playing, or
just nail that powerful soul jazz guitar sound, which was pioneered by the likes of Grant
Green, George Benson, Cornell Dupree, Johnny Guitar Watson and other giants of the era —
dig immediately into Rory Ronde's Soul Jazz Signatures Guidebook!
"I'll show you solos, licks, grooves, rhythm moves, and key techniques inspired by
legendary guitar players from the soul, jazz and funk scene. We'll explore the signature
techniques and typical grooves that defined these artists, and I'll show you how to
incorporate these moves into your own playing whatever styles you prefer playing."
Rory will guide you through the signature Soul Jazz guitar moves of Grant Green, George
Benson, Cornell Dupree, Johnny Guitar Watson, Ronny Jordan, Ernest Ranglin, and even some
more contemporary Neo-Soul guitar stylings. Rory will present a variety of ways to style
your Soul Jazz inspirations including jazz, hip-hop, funk, and even reggae influences.
You'll play your way through 8 performances studios, each focused on the signature moves
and stylings of a legendary Soul Jazz guitarist. Rory will demonstrate over a backing
track, and then break the performance down for you, emphasizing the key techniques and
approaches that you'll need to infuse the style into your own playing.
Rory will explain and demonstrate all of the key concepts and approaches along the way.
You'll get standard notation and tabs for each of the performance studies. Plus, Rory
includes all of the rhythm tracks for you to work with on your own. In addition, you'll be
able to loop or slow down any of the videos so that you can work with the lessons at your
own pace.
Grab your guitar and let's get soulful with Rory Ronde!
Missing file added. satch