Truefire Rob Garland - Melodic Soloing Blues Chord Tones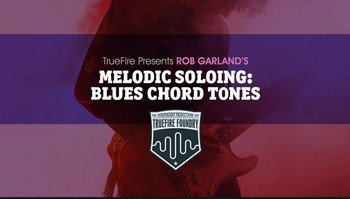 Publisher: Truefire | Language: English
Video: MP4, 960x540 (16:9), 971 Kbps, 29.970 fps
Audio: MP3, 192 Kbps, 48 Khz, 2 channels
Size: 618 Mb
When soloing over blues and rock many guitar players use the pentatonic scale, which is a
good place to start. However by addressing the chord changes of the song (and the good news
is with the blues, there are usually only 3 chords) and targeting chord tones, your solo
will soar to new melodic heights and you'll be the envy of every pentatonic warrior at your
local blues jam! Melodic Soloing: Blues Chord Tones will show you how to easily find and utilize chord tones to create compelling melodic solos. To get you there quickly, Rob explains how the chord tones can be extracted from the actual chord voicings you are playing and how to make music with them, incorporating pentatonic scales and arpeggios.
The course includes how to apply chord tones when soloing over standard blues shuffles, 12
bar slow blues, minor blues and even blues progressions that move beyond the basic I-IV-V
chords. All of the key musical examples are tabbed and notated, plus Rob includes all of the jam tracks for you to work with on your own.