Truefire Robben Ford - Blues Chord Evolution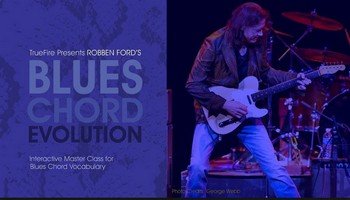 Publisher: Truefire | Language: English
Video: MP4, 960x540 (16:9), 971 Kbps, 29.970 fps
Audio: MP3, 192 Kbps, 48 Khz, 2 channels
Size: 597 Mb
If you play the blues, you're likely playing rhythm guitar 90% of the time, either comping
for the vocalist or for another soloist. As most blues are comprised of simple 1-4-5
variations, you need command of a large vocabulary of chords to color up your rhythm parts
and keep things interesting for the audience as well as for your band members.
Robben Ford's Blues Chord Evolution is not only a compilation study of Robben's favorite
go-to blues chords, it's also the quickest way to expand your own blues chord vocabulary.
"Over the years, I've developed a strong relationship with chords. It began with a book by
a man named Mickey Baker, Jazz Vol. 1. Many of the things I learned in there, I saw that I
could immediately apply to 12-bar blues playing, particularly Chicago blues. It was a
perfect match! Over time, I learned my own way of applying these chords to the blues, which
I'm excited to show you here in Blues Chord Evolution."
Robben organized the course into 14 sections. Each section focuses on a specific chord
type. All of the sections feature demonstrations, a performance study, and an analysis and
break down. You'll start the course learning some basic open position chords (with a little
embellishment). From there, you'll learn major triad barre chords with some extensions.
Then you'll dig deep into how Robben uses minor 7th, 6th, 9th, and 11th chords. Dominant
chords are next — dominant 7th, 9th, and 13th. Robben winds up the course with some altered chord voicings.
Robben will explain and demonstrate all of the key concepts and approaches along the way.
You'll get standard notation and tabs for all of the performance studies. Plus, Robben
includes all of the rhythm tracks for you to work with on your own. In addition, you'll be
able to loop or slow down any of the videos so that you can work with the lessons at your
own pace.
Grab your guitar and let's expand comp some blues with Robben Ford!