Truefire Jason Loughlin - 30 Pedal Steel Licks You MUST Know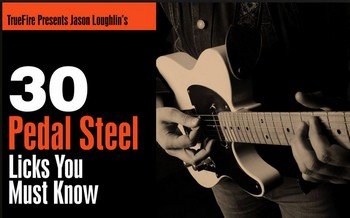 Publisher: Truefire | Language: English
Video: MP4, 960x540 (16:9), 971 Kbps, 29.970 fps
Audio: MP3, 192 Kbps, 48 Khz, 2 channels
Size: 590 Mb
Learn How to Emulate the Pedal Steel on Guitar Pedal steel is one of the most recognizable sounds associated with country music.
Electric guitar players have been trying to copy its sound since the 1950's. By learning how to imitate the pedal steel we can change our whole perspective on how we see the
electric guitar -- the bends that are possible, the expressiveness of the instrument, and it's unique approach to phrasing.
In Jason Loughlin's collection of 30 Pedal Steel Licks, you'll learn ways to bend triads, incorporate bends into our arpeggios, play jazz-inspired altered lines, bend double stops,
contrary motion bends, play some classic pedal-steel intros, and a whole lot more."Pedal steel guitar evolved out of lap steel guitar in the 50's and starts to really come
into focus by the late 50's. Here's what we need to know: There are two common tunings, E9 and C6. These tunings vary depending on how many strings the steel guitar has. For most of this course, we're trying to make bends that correspond with the pedal and knee lever bends." Jason will demonstrate the lick over a backing track and then break it down for you emphasizing the key techniques and harmonic approaches in play. Jason will explain and demonstrate all of the key concepts and approaches along the way.
You'll get standard notation and tabs for all of the performance studies. Plus, Jason includes all of the rhythm tracks for you to work with on your own. In addition, you'll be
able to loop or slow down any of the videos so that you can work with the lessons at your own pace.