Truefire Corey Congilio - Essentials Modern country soloing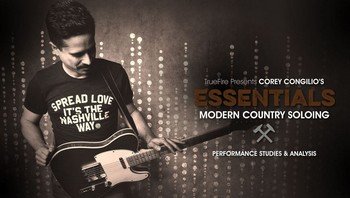 Publisher: Truefire | Language: English
Video: MP4, 960x540 (16:9), 971 Kbps, 29.970 fps
Audio: MP3, 192 Kbps, 48 Khz, 2 channels
Size: 547 Mb
Today, many consider modern country music, with its heavier rock-influenced sound, to be the last bastion of guitar heroes -- it's one of the few popular genres that still consistently features blazing guitar solos. Country music has certainly evolved and the envelope has been pushed by some of the most seasoned players on the planet. It's home to modern sounds and techniques, and yet still true to the great Nashville guitar tradition.
Corey Congilio's Modern Country Soloing edition of Essentials features a collection of ten essential soloing performance studies designed to help you master the modern country sound. Corey guides you through an essential variety of concepts and approaches including open string licks, arpeggios, pedal steel bends, chickin' pickin', smooth double stop lines, drop-d riffs and much more.
"I've been a fan of country music for years and I've watched how it's changed not only from a songwriting perspective but from a guitar playing perspective as well. Artists like Brad Paisley and Keith Urban have helped to keep more traditional playing alive but, the infusion of rock playing has definitely changed the landscaped in this genre. Nowadays, anything goes!
As a Nashville resident and session guitarist, I'm often called on to play on songs that require me to play traditional chickin' pickin licks, melodic atmospheric lines or straight up rock riffs. I'll cover lots of different ideas in this course, and I'll explain the techniques that I'm using so that you can accurately execute the solos. I'll even talk about gear and guitars a bit too. Jump in and let's get pickin'!"
For each of the 10 soloing performance studies, Corey will first perform the solo over a backing track, and then break it down slowly for you, measure by measure. Each set of these 10 soloing performances features multi-angle videos for both performance and breakdown videos.
Somebody Like Him - "This is the first tribute to Keith Urban in this course. I remember hearing the song "Somebody Like You" and thinking wow, that is some killer playing there! This solo focuses on arpeggios and truly crafting a melodic solo. I have the gain and compressor rocking for this one, as I really want those notes to sustain and sing! You'll notice how I really attack the guitar in all of these solos. You have to really dig in and play more aggressively than you think you might! We're in the key of E here, and some of the things we'll focus on here are arpeggios, open string ideas and of course the use of hybrid picking. "Playing through the changes" isn't something we think about in rock or country, but it's as important to do that just as it is in jazz. I'll explain that throughout the course and here as well."
Paisley Printed Tribute - "I spent a good time with the music of Brad Paisley. I particularly focused on his records Who Needs Pictures, Mud on the Tires, and 5th Gear. The album Play is a really cool as it's a guitar record that features many of his favorite players and iconic Tele pickers! Some of the things I love about Brad Paisley's playing is how he plays with reckless abandon! Brad infuses country, blues, and rock in a unique way that usually has a little bit of humor attached to it as well. I hope you dig this one! I'll give you a whole host of ideas here. We're in the key of A here, which is a great key of open strings and country playing. I'll weave in some bluesy stuff here just as Brad might. Again, this is not a Paisley solo, it's my take on his style with some of my own interpretations thrown in. Enjoy!"
Saucy Aussie - "Here's another Urban style example with a killer clean guitar approach. This is loaded with pretty double stops and single lines drenched in reverb. I really liked putting this one together. I'm using the neck pickup on this tele-style guitar to get a great buttery clean tone. This kind of approach screams Hendrix to me. Some players might hear John Mayer in it. To me...it all comes from Hendrix! In any case, try to find the episode of Crossroads where John Mayer plays with Keith Urban. It's a good watch! I really outline the chord tones here by using double stops, but I'm trying to create a melody here. Remember, we're trying to craft memorable guitar solos here and not just stringing a bunch of licks together. I'm a big fan of using the open string ideas with lots of reverb here. The song "Memories of Us" is the inspiration for this one."
Heavy Metal Redneck - "If you've turned on your country station in the past 15 years or so, you've definitely heard some changes with regard to guitar playing! Artists like Luke Bryan, Jason Aldean, Florida Georgia Line, and others have made rock guitar playing the cornerstone of their music. This example will focus on that! Let's do it! Drop D tuning is the keystone of this example. I thought doing a solo in Drop D would be a killer addition to this course. The other big take away is repetition. Notice how I repeat the theme over and over again and finish it with different phrases. In addition to the drop D tuning, you'll get loads of pull-offs here, too. What's also cool is that I'll be pulling off to open strings for a unique vibe. I'll use hybrid picking to make everything fluid, too."
Shuffle Party - "I love a good shuffle...I mean I am a blues player at heart! I really enjoyed John Pardi's record California Sunrise. There's a great song on it called "Head over Boots". I took a chord progression from that song and composed a solo over it because I thought it had some really fun elements. This also could be considered an homage to Dwight Yoakam who I'm also a big fan of! This solo has so many elements in it that it may keep you busy for some time! I carefully play through the changes while weaving some quintessential country ingredients in it. Enjoy! I start out with some classic major pentatonic ideas here. You'll get some chicken-pickin' and chord tones, too. Pedal steel bends, chromatic lines, and claw type licks aplenty here as well!"
Breakin' Hearts - "Modern country music has some great female artists, but frankly...not enough of them! I'll get on my soapbox here for a minute and stick up for the talented woman of country music. The female artists I've come across write incredible music with deep lyrics and fresh ideas. Miranda Lambert is one of my favorite artists who's done quite a lot for country music and supporting women in the genre. I've had the pleasure of playing on her stage a few times and shes as world-class as it gets. This solo is a tribute to the song "Mama's Broken Heart", which was written by another female powerhouse Kasey Musgraves! I'll touch on inversions in this one with a bit of rockabilly thrown in too! Inversions, hybrid picking, and banjo rolls will be the focus of this solo. Hang on tight because this one is a bit on the fast side! Get used to the triads and inversions first. The chords will be your landmarks throughout the solo. The B7 shapes may be new to you which is a nice bonus! Remember to approach this with lots of attitude... especially the last section of the solo. This one is fun, so take your time and enjoy!"
I Know What You're Thinkin' - "I remember hearing Dierks Bentley's "What Was I Thinking" and it really turned my head. It rocked but had great picking and attitude. This is my tribute to that song. I hope you dig it! I really target the chord tones here, because frankly...I'm not sure what else would sound good! It's a quirky little chord progression, but I think you'll like my approach. I'll start out this solo with some basic pentatonic ideas, but I'll alter those when I need to target chord tones. There's tons of lead guitar technique stuff here as well: Plenty of bends and slides and also some hybrid picking licks. My favorite stuff happens in that open E position. Work on that stuff and add it to your own open string bag of tricks!"
Reigning Queen - "It'd be tough to argue that Carrie Underwood isn't the most popular female artists in country music today. Her songs are always dramatic in the message and have the guitar parts to back it up. I created this example mimicking the chords to her song "Before He Cheats". I always loved playing this song and soloing over these changes is a lot of fun. Check it out! This solo has a heavy dose of arpeggios. I love playing arpeggios with a cranked up lead tone. I'm also a fan of playing a major 7 arpeggio over a minor chord or key center. It ALWAYS works and is magic. Jump into this one and I'll explain! Notice how melodic this solo is. I tried to make it very sing-songy as to be something that would stick in your head! You'll see how the arpeggio just spells out a melody. It's kind of incredible actually! I'll use lots of repetition to tell the story here so, always be thinking about that. I venture up the nether regions of the guitar too, so have fun bending up high!"
Twangy Reminder - "Here's one more tribute to Brad Paisley. Brad always plays some insane stuff over ballads. He has a knack for infusing open strings and bluesy licks over tender sounding songs. Have a listen to the song "Remind Me" and you'll hear what I mean. The solo I composed is inspired by that song. The thing that jumps out immediately here is that I bend behind nut at one point. I'll talk about how Brad would use a G-Bender for this. I love benders in guitars, and by golly, some day I'll have one! A few other aspects of this solo I like are the bluesy runs and 6th intervals I throw in at the end. Put some time in with the 6th interval as it really helps to broaden the sound of your instrument and creates a sound you may not be used to hearing."
Drop-D Down Under - "One more tribute to Keith Urban here. You're going to want to check out the song "Who Wouldn't Wanna Be Me". The vibe of this song screams Keith Urban and I wanted to really highlight it. I took that chord progression and composed a solo around it using some Urbanisms! I think you'll dig it! The open string lick I do in this solo is definitely my favorite part of this one. That lick alone may take some time to nail down, but once you do you'll never forget it! Once again, we're tuned to Drop D here. I'll explain in the video why I'm tuned this way. The palm muting can't be overlooked here either. The muting really helps to get that funky sound. The open string lick in the middle of the tune is the centerpiece for sure. It takes time to get these licks fluid, but it's all worth it! Take advantage of those fingernails if you've got 'em, too (haha)! Oh, and guess what...more 6th intervals here too! Lots of fun stuff here. This solo is a course in itself!"
Corey will explain and demonstrate all of the key concepts and approaches along the way. You'll get standard notation and tabs for all of the performance studies. Plus, Corey includes all of the rhythm tracks for you to work with on your own. In addition, you'll be able to loop or slow down any of the videos so that you can work with the lessons at your own pace.
Grab your guitar and let's get pickin' with Corey Congilio!