Truefire Corey Congilio - Trading solos Texas blues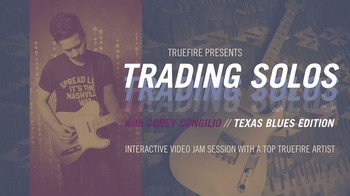 Publisher: Truefire | Language: English
Video: MP4, 960x540 (16:9), 971 Kbps, 29.970 fps
Audio: MP3, 192 Kbps, 48 Khz, 2 channels
Size: 290 Mb
Interactive Video Jam Session with a Top TrueFire Artist
Jamming with other players -- there's absolutely no better way to improve as a musician and guitarist! When you comp for another soloist, you not only work on building your rhythm chops — you're also picking up new licks and ideas from their solos. When they comp for you, it's your opportunity to try out your own ideas and approaches, inspired by the groove that the rhythm section is laying down.
In this Texas Blues edition of Trading Solos with Corey Congilio, you'll jam together over five Texas blues grooves in a variety of keys and feels. Corey will kick the course off by sharing some gear tips, techniques, and other key approaches to help you get that big Texas Blues sound.
"I'm a big fan of Texas Blues because of the emotional soloing, soulful grooves and monstrous guitar sounds that the pioneers of this style created. In this edition of Trading Solos, we'll jam over 5 Texas blues grooves. That's right - "we'll jam!" I'll share some tips about tone, comping approaches, and show you some of the licks that I'll build my solo around. I'll break them down, and then we'll jump into trading solos. I think you're going to love the relaxed vibe of this course, and I really hope that you'll jam and trade solos with me on a regular basis. You'll really get a sense of my personal approach to this style as well. I'm going to show you my "go-to" ideas and how you can incorporate those into your playing."
For each of the five featured Texas Blues grooves, Corey will show you a handful of licks and comping approaches that you can use over the track. You'll then take turns applying those ideas, by soloing and comping for each other.
Track 1: Shuffle in A
"We'll kick off with a classic Texas shuffle feel. We're in the key of A here, and I'll start by showing you some licks and ideas I'd play over a groove like this. I start with a classic shuffle comping approach here. I'll briefly talk about how to make the rhythm sound tight. Also, really try to lock in with the drums and bass here. The upbeat rhythm I'll show you is something I do often - it offers nice a counter rhythm and is a lot of fun!"
Track 2: Straight Funk in E
"There's plenty of funky grooves in Texas blues music. This track is in the key of E… the mother of all funky keys! You'll see why I love playing over these types of grooves here. I'll throw in lots of SRV-isms, too! This groove is really based around the E7#9 chord. This chord is commonly called the "Hendrix" chord, and I'll show you two ways to play it. The magic is in the right hand for this groove, so pay attention to how I'm strumming. I play some fun single line grooves here, too. You may not think that you could do this for a rhythm part, but it really works well. Give it a shot!"
Track 3: Slow in G
"We can't skip trading solos over a slow blues! This is a classic "Texas Flood" type feel, and I try to infuse some of that classic Texas blues phrasing here. You'll hear some tried-and-true licks here, so dig into this one and you'll have vocabulary for days! It's important to be tasteful when playing rhythm over a slow blues. You want to listen to what the other instruments are doing, but also provide enough space for the soloist. I'll show you a riff based rhythm part as well as a nice chord cluster that you might not have used before!"
Track 4: Shuffle in C
"Whenever I think of a groove like this, I hear the song "Empty Arms". Check out SRV's version on the Sky is Cryin' album. I really try to focus on the major/minor pentatonic stuff in this example. Blurring those lines really works well here. I think you're gonna dig this one! When it comes to comping, I took a page right out of that song "Empty Arms" I was referring to. You'll get a traditional 9th chord vamp as well as a one a few of my favorite 7th chord inversions."
Track 5: Straight in C
"As an instructor of this type of music, I always try to make sure I don't leave out a straight blues feel. The blues isn't just shuffles, right!? Think of "The House is Rockin'" for inspiration on this song. We can do lots of Chuck Berry type of licks here and they'll sound perfect! I'll show you some typical rock 'n' roll type rhythms in this example. I'll also show you some of my go-to "2 note" chords! These little shapes are easy to play and leave lots of space for the bass and keyboard to do their thing!"
Corey will explain and demonstrate all of the key concepts and approaches along the way. You'll get standard notation and tabs for each of the licks. Plus, Corey includes all of the rhythm tracks for you to work with on your own. In addition, you'll be able to loop or slow down any of the videos so that you can work with the lessons at your own pace.
Grab your guitar and let's trade solos with Corey Congilio!
password: 8aterz402