Truefire - Jason Loughlin's Essentials: Surf Guitar (2017)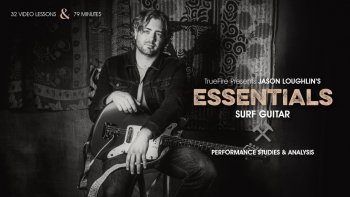 Publisher: Truefire | Language: English
Video: MP4, 864x486 (16:9), 971 Kbps, 29.970 fps
Audio: MP3, 128 Kbps, 44100 Khz, 2 channels
Size: 711 Mb | Length: 01h 18min
While Surf music may have had its heyday back in the 60's thanks to artists like Dick Dale, Duane Eddy, the Ventures, and the Beach Boys -- it's sound has not been frozen in time. In fact, Surf music and surf guitar have evolved over the years, into its own distinct array of colors and feeling.
In Jason Loughlin's Surf Guitar edition of Essentials, you'll explore a variety of Surf music styles, as well as some of the styles that orbit Surf music. Surf music doesn't have a lot of improvisation in it, as it's primarily focused on melody and arrangement, which is what Jason focuses on throughout the course.
"We'll work through 10 instrumental studies that examine early Surf music, its influences, its offshoots, and how Surf music has evolved over the years. We'll start off with a Ventures-inspired study, a Duane-Eddy-style study, and a study in the style of the Shadows. We'll also play through studies that examine Exotica style Surf guitar parts, Surf band styles from the 80's, the punk sounds of 90's Surf rock, Hawaiian Surf music, Cuban-influenced Surf, and a study focused on a Misirlou-inspired surf guitar approach. I'll first play each study for you, and then I'll break it down note for note so that you can get it under your fingers."
Jason's 10 Performance studies cover the range of techniques, feels, and chord progressions that are most common in traditional and modern Surf music styles. For each study, Jason will demonstrate the performance and then break it down for you emphasizing key concepts and techniques.