Truefire - Jeff McErlain's Essentials: Advanced Blues Soloing (2017)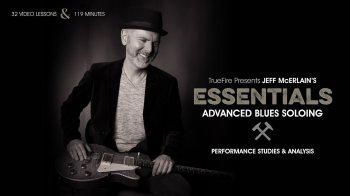 Publisher: Truefire | Language: English
Video: MP4, 864x486 (16:9), 971 Kbps, 29.970 fps
Audio: MP3, 128 Kbps, 44100 Khz, 2 channels
Size: 1,00 Gb | Length: 01h 58min
Robben Ford, Larry Carlton, David Grissom, Stevie Ray Vaughn, Freddie King, Billy Gibbons, Albert King, and Buddy Guy are just a few examples of blues guitar masters who are widely respected for their "advanced" soloing skills and harmonic vocabulary. Ready to take your own blues soloing skills to the next level? Dig deep now into this Advanced Blues Soloing edition of Essentials from Jeff McErlain!
"I've prepared 10 performance studies that focus on the advanced soloing skills that all of our favorite blues and blues rock guitar players use in their own soloing performances. We'll work on phrasing, outlining the changes, double stops and over bends, big vibrato, utilizing half-step whole step diminished scales, soloing over bluesy ballads, incorporating diminished seventh arpeggios, hybrid picking techniques, chromaticism, and many other advanced skills and techniques."
?These 10 soloing performance studies cover a range of styles, tempos and feels including shuffles, funk, mambo, 12/8, country blues and Texas boogies. For each performance study, Jeff will first demonstrate the solo and then break it down for you note-by-note.