TrueFire - Brook Robertson's Essentials - Boom-Chick Fingerstyle Etudes (2016)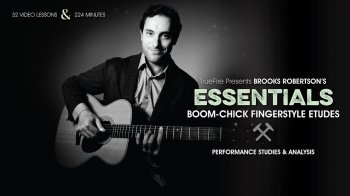 P2P | Dec 24 2016 | 1.86 GB
The boom-chick finger picking pattern is one of the most coveted techniques in fingerstyle guitar. You'll hear this ultra-rhythmic approach all over the catalogs of fingerstyle legends like Merle Travis, Jerry Reed, Chet Atkins, Tommy Emmanuel and Buster B. Jones. For the budding fingerstyle guitarist, it's a must that you master this sound and the best way to do this is by learning a repertoire of essential boom-chick arrangements. Brooks Robertson composed and/or arranged 10 essential "boom-chick" etudes for you to work with, each designed to help you develop the necessary right- and left-hand techniques that you'll need a grip on to get your boom-chick chops up to speed.
Brooks demonstrates all 10 of the following Performance Studies and then breaks them down section-by-section stepping you through the key concepts, techniques, and creative approaches used in the performances.
Careless Love - "This great tune has been recorded by many iconic artists including Ray Charles, Louis Armstrong, Pete Seeger, Madeleine Peyroux, Joan Baez, and countless others. We'll be learning the arrangement in the guitar-friendly key of E, utilizing basic techniques like steady boom-chick thumb rotation, muting the bass strings with the palm of the hand, and playing chords in multiple positions on the neck to accommodate the use of open strings and melody."
Avalon - "Avalon, a wonderful standard written by Al Jolson, Buddy DeSylva, and Vincent Rose. In this lesson, we'll focus on the chorus of the tune only, which makes for a nice solo guitar arrangement. A great version to listen to is Chet Atkins' and Les Paul's, recording the tune on their 1976 album Chester & Lester, which won a Grammy for best instrumental record. This is a standard for many fingerstyle guitar players as it lends itself nicely to the boom-chick technique as you'll see. We'll be playing this arrangement in the key of C Major, again utilizing open strings and playing chords in multiple positions up the neck."
Alabama Jubilee - "Alabama Jubilee is another classic tune to add to your repertoire. This was one of the first songs I learned from Buster B. Jones after I'd been playing fingerstyle for roughly one year. Similarly to the arrangement Buster used to play, we'll be playing this tune in the key of E Major and will focus on the chorus only. The song was composed by George L. Cobb and Jack Yellen, published in 1915. It has been recorded by many great fingerstyle artists such as Chet Atkins, Doc Watson, Jerry Reed, Leon Redbone, Nokie Edwards, and Buster B. Jones."
The Nieliwocki Stroll - "This tune was inspired by my wonderful family friends Kandice and Daryll. During a visit to their house in New Jersey we jammed together for fun over some bluesy progressions and original songs. I stole some licks from Daryll's piano playing and tried to capture his funky laid back essence in this arrangement. Parts of this tune are also similar to some of Jerry Reed's ideas in "Jiffy Jam" and "Blue Finger", with ascending, walking bass lines in the key of E major. Kick back and have fun with the Nieliwocki Stroll."
Limehouse Blues - "Limehouse Blues is another great standard that many jazz musicians as well as guitar instrumentalists play often. It was written in 1922 by Douglas Furber (who wrote the lyrics) and Philip Braham (who write the music). Chet Atkins used to learn the lyrics to songs that he played instrumentally, so that he could better phrase the melody like a singer, something to consider doing with any tune you arrange. Atkins and Les Paul recorded a great rendition of "Limehouse Blues" on their second album, Guitar Monsters in 1978. We'll tackle this arrangement in the key of G Major and will focus on the chorus of the song."
Moonlight Vagabond - "Moonlight Vagabond is another original tune I wrote to compliment the other arrangements in this course. It is a tip of the hat to Chet Atkins and to my mentor Buster B. Jones. It borrows the feel from tunes you might have heard like Windy and Warm, Ready for The Times to Get Better, and Jam Man, which are all great tunes to listen to if you've not done so yet. It's in the key of A minor and uses a "heavy thumb" as well as the muffled bass technique."
Sound Sailing - "Sound Sailing" is a ballad in the key of D major that requires a drop D tuning. This is a simple piece I wrote for this course while visiting Seattle, WA. It requires some finesse and a delicate touch. While the bulk of the tune utilizes an alternating bass technique and all of the fingers, it has a nice intro and ending using sixths on the top three strings for some nice parallel harmonies. The melody echoes the title "Sound Sailing". Just think of sailing around the Puget Sound, or maybe even up to the San Juan Islands, nice and easy going. There's no rush and nowhere to be when playing this song."
After You've Gone - "After You've Gone" is a classic tune from 1918. The lyrics were written by Henry Creamer and the music was composed by Turner Layton. It has been recorded numerous times by many great artists including Chet Atkins & Suzy Bogguss, Louis Armstrong, Frank Sinatra, Ella Fitzgerald, Benny Goodman, and many more. These classic recordings would be good to take a listen to as you work on the tune to familiarize yourself with the melody and variations these artists have applied to the tune."
Feelin' Fine - "Feelin' Fine is another original I composed specifically for this Essentials course. It has a very nice feel, with a rather bright, happy-go-lucky melody and chord progression. There is a lot of harmonic movement throughout the song, or in other words, the chords change often (2 beats each chord for the most part), so you're usually not staying on any one chord for too long. The concept I use very often when writing tunes like this one is utilizing a motif within the melody, then applying that same motif across various chords. This usually succeeds in surprising the listener and keeping their attention. This arrangement is in the key of A major, again using the traditional alternating bass boom-chick style techniques with heavy use of bass string muffling."
West Coast Waggin' - "West Coast Waggin' is an original piece I wrote specifically for this course. It was great fun thinking up something that sounded good, was enjoyable to play, while not being too difficult (although as you'll see it isn't terribly easy either). Keeping in line with all the tunes included in this course, it utilizes the alternating bass technique as much as possible. This arrangement is in the key of A minor and will introduce a "Banjo Roll" technique that works for some nice breaks and fills within the tune, not to mention it is a good technique to become familiar with. It opens with a simple, single string line, very slow and rubato and transitions into a groovy thumb picking tune that's a blast to play."
All of the performances are tabbed and notated for your practice, reference and study purposes. You'll also get Guitar Pro files so that you can play, loop and/or slow down the tab and notation as you work through the lessons.
Grab your guitar and let's get boomchickin' with Brooks Robertson!