Truefire - Chris Buono's 40 Day Rhythm Guitar SWAT Camp (2009)


Publisher: Truefire | Language: English
Video: MP4, data-dvd (includes Tabs and Power Tab Files), 854x480 (16:9),
775 Kbps, 29.970 fps | 6,52 Gb
Audio: MP3, 128 Kbps, 44100 Khz, 2 channels | Length: 11h
One of TrueFire's top-ranked interactive audio courses of all time is 40-Day Rhythm Guitar SWAT Camp, a compilation of 40 "rhythm" audio lessons that we produced for Guitar Player magazine. The 40 lessons were authored by a veritable "who's who" of guitar educators who cover a very distinctive range of rhythm guitar styles and techniques.
The curriculum is designed to expose the student to a wide variety of instruction over 40 days, 1 lesson each day, thereby forcing the student out of their comfort zone and into the "learning" zone. Those who have taken on the challenge, and played by the rules (40 days, 40 lessons), report "grossly enlarged rhythm chops."
We asked our resident Professor of Comp, Chris Buono, to update the course material with video segments demonstrating the more challenging examples within the 40 lessons. We also asked Chris to update the individual lesson selections by swapping out half of the lessons with more current material to give the course better range and balance.
After nine months of editing, recording, tweaking and arranging, Chris produced over 11 hours of video segments (no typo - eleven hours of video!) across the 40 lessons. This new, improved, video version of 40-Day Rhythm Guitar SWAT Camp includes all 11 hours of video instruction, all of the original audio lessons, all of the text narrative, notation and Power Tab for all of the examples.
You're not expected to nail every lesson, every day. Not sure that's even possible as there's more than a few doozies from the likes of Jesse Gress, Joe Deloro, Keith Wyatt, Adam Levy and other monster educators that would take weeks for mere mortals to master. Rather you'll explore each lesson to the best of your ability and then move on the next day. When you've completed the 40 days, you're free to go back and dig in deeper on the lessons that you dug the most.
So, pack your boots and tell your loved ones that you'll see them on the other side.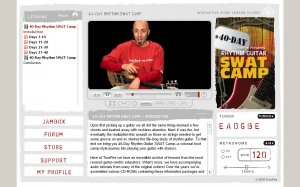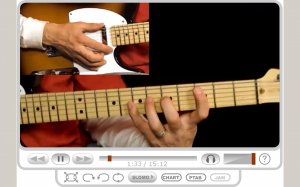 Reuploaded. PiRAT