Truefire - Johnny Hiland's Ten Gallon Guitar (2014)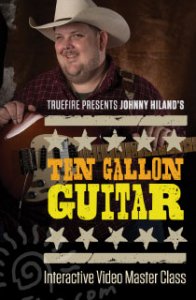 Publisher: Truefire | Language: English
Video: MP4, data-dvd (includes Tabs, Jamtracks and Guitar Pro Files),
864x486 (16:9), 1105 Kbps, 29.970 fps | 2,19 Gb
Audio: MP3, 128 Kbps, 44100 Khz, 2 channels | Length: 04h 36min
Most of you won't even read this course description because all you really need to know is that Johnny Hiland reveals all in this new master class course of his. So cool.. click the add to cart button, download it now, grab your guitar and lock yourself in the shed with Johnny Hiland's Ten Gallon Guitar.
For the rest of our guitar playing friends, we can only assume that you're just now returning from a 10-year expedition up the Amazon river or have otherwise been distracted from the modern world of guitar because Johnny is perhaps the most talked-about player of the decade.
If you wrote a movie about Chuck Berry's Johnny B. Goode, you'd use Johnny Hiland's bio as your script guide...
ACT I: Born legally blind in the small New England town of Baileyville; parents put a guitar in his hands at the age of two; performs on TV at age seven; wins Talent America contest at age ten; plays in a variety of bands; loves and practices country, bluegrass, swing, blues and rock music; develops his signature style that blends all of those styles; moves to Nashville in '96 to pay his dues playing the honky-tonks on lower Broadway.
Deep down in Louisiana close to New Orleans
Way back up in the woods among the evergreens
There stood a log cabin made of earth and wood
Where lived a country boy name Johnny B. Goode
Who never ever learned to read or write so well
But he could play the guitar just like ringing a bell
ACT II: Johnny lands gig with the well-known Don Kelley Band at Robert's Western World; performs on TNN's Prime Time Country and the legendary Grand Ole Opry; records and performs with a Who's Who of country, blues and rock artists including Toby Keith, Trick Pony, Randy Travis, Ricky Skaggs, Janie Fricke, Lynn Anderson, Hank 3, Sammy Hagar, Ted Nugent, George Clinton and P-Funk, Les Paul, Steve Vai, Joe Bonamassa, G3 and many others.
He use to carry his guitar in a gunny sack
And sit beneath the trees by the railroad track
Oh, the engineers used to see him sitting in the shade
Strumming to the rhythm that the drivers made
People passing by would stop and say
Oh my, that little country boy sure could play
ACT III: Johnny signs first record deal with Steve Vai on his guitar-centric label, Favored Nations; tours globe with his own Johnny Hiland band; draws standing-room crowds at all of his concerts; dozens of top manufacturers produce signature Johnny Hiland models of their products; becomes widely recognized as one of the top contemporary guitar artists.
His mother told him someday he would be a man
And he would be the leader of a big old band
Many people coming from miles around
To hear him play his music when the sun go down
Maybe someday your name would be in lights
Saying Johnny B. Goode tonight
Fortunately for we students of guitar, Johnny is also a highly skilled educator who loves to teach and pass on whatever he can to other players. Ten Gallon Guitar is Johnny's first in-depth interactive video course and we're honored that he chose TrueFire to help him present and share the key concepts, techniques and creative approaches that comprise his signature style.
Johnny organized his curriculum into two sections. In the first section, Johnny presents the 17 key concepts, techniques and tunings that comprises his signature 'Ten Gallon' style, which fuses country, blues, rock, funk, rockabilly and swing.
Johnny presents and demonstrates: Warm Up Exercises, Warm Up Scales, Chicken Pickin' Technique, Focus Scales, Open String Licks in E, Open String Licks in A, Open String Licks in G, Open String Licks in D, Open String Licks in C, Double Stops Exercises, Double Stops Licks: 1, Double Stops Licks: 2, Double Stops Chords, Pedal Steel Bends: 1, Pedal Steel Bends: 2, High-Low-Low-High and Western Swing Technique. He also presents two extensive rundowns of his guitars and gear in this section.
In the second section, Johnny steps you through 10 Performance Studies where you'll learn how to apply all of the key concepts and techniques from the first section, in a real-world musical context.
Johnny applies the concepts and techniques across a variety of styles and keys ranging from country and western swing, to blues and hard rock, to rockabilly and country rock: Country groove in the key of D, Chicken Pickin' study in the key of A, Chicken Pickin' Half Time groove in the key of A, Country Shuffle in the key of D, Western Swing in the key of G, Rockabilly study in the key of E, Blues groove in the key of B, Heavy Rock in the key of A, C Funk groove in the key of C and a Country Rock study in the key of C.
Johnny demonstrates all of the key concepts and techniques over rhythm tracks, and then breaks it all down in a clear and very accessible manner. All of the performance examples are tabbed and notated, plus all of the rhythm tracks are included for you to work with on your own.
The sequel to our Johnny B Goode movie is all about you and your own Ten Gallon Guitar!
Go go, go Johnny go go
Go Johnny go go, go Johnny go go
Go Johnny go go, Johnny B. Goode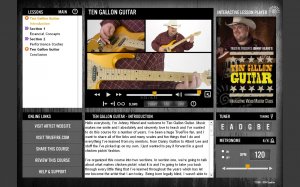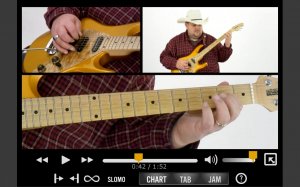 Reuploaded. PiRAT