Simon Pratt - Beyond Rhythm Guitar: Riffs, Licks and Fills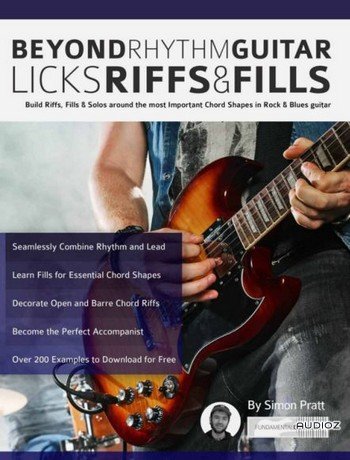 English | 77 pages | PDF + MP3 | 173 Mb
Beyond Rhythm Guitar takes you on a journey of discovery that teaches you the best ways to build fills and solo guitar lines around the most important chords on the guitar. You'll learn the scale shapes, approaches and secret techniques that the best guitar players use to add melody lines to guitar chords.
With over 200 notated audio examples, every essential chord is dissected while you are taught how to use their unique shapes to form lead lines that fit seamlessly into your playing.
From open chords, to using capos and decorating barre chords in rock and blues guitar, Beyond Rhythm Guitar is a pop, rock and blues-focused study method that will help you create beautiful and interesting guitar melodies around chords.
You will quickly become the 'go-to guitarist' when it's time to accompany singers and instrumentalists
download from free file storage