Truefire - 269 Blues Licks You Must Know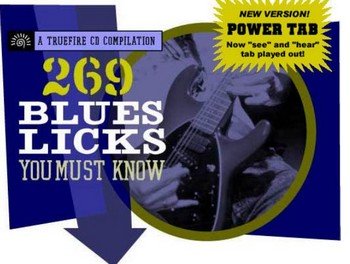 MP3 + PDF | Size : 468 MB
Blues Power Course For Intermediate to Advanced Players. An Essential Blues Players Almanac
Three key qualities separate great blues players from the rest of us: technique, feel and their musical vocabulary of blues licks. Technique is 99 perspiration practice diligently, practice smart and then practice it all over again. Feel is largely a personal thing so we cant help you much there but keep listening to and mimicking the masters until you discover your own voice and feel it will come. And heres the good news. All blues players (yes, all of them!) draw from the same universal vocabulary of blues licks and you get 269 of the most useful ones in this Blues Power course for intermediate and advanced players.
How do you want your blues? Texas-style, Chicago-style, Delta style - we got ya covered. Time to beef up your repertoire of turnarounds? You get over 40 juicy starts and finishes. Ready to add open tuning and slide to your bag of tricks? Looking for more hammers, bends, tremolo tricks, steel licks, double stops or staccato runs? Its all in the bag. Plus an extensive range of signature licks a la Stevie Ray Vaughn, Eric Clapton, Hendrix, Muddy, Elmore, Hooker, Allman, Cooder, Beck, BB, T-Bone, to name but a few of the master blues men covered.
Learn At The Speed of Sound. The lessons are authored by 9 of the planet's top blues guitar instructors, are formatted in MP3 (audio) and PDF (tab), and come to you on CD. You dont need to read music. You dont need to understand theory. If you've got decent ears and can follow simple tab then you're good to go. Lessons include slow and at-tempo audio examples plus instructor commentary to get you through the sticky stuff.