Roland Zenbeats v1.1.1.7718 x64 x86 STANDALONE WiN MAC [FREE]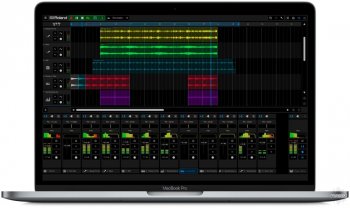 01.02.2020 | x64 x86 STANDALONE WiN MAC | 131/7 MB
FiND YOUR CREATiVE FLOW
Roland Zenbeats is a music creation app designed to keep you in an effortless artistic flow. Get started on any device or platform. With its collection of both modern and legendary sounds, Zenbeats brings Roland's history of innovation into a dynamic, accessible environment.
Whether you're an emerging musician or an established producer, Zenbeats makes music creation easy. Make beats, access lessons, and sample the world around you. Wherever you are, no matter what platform or device you use, capture your creative spark with Zenbeats.
Fresh Sounds — Fresh Ideas
The Zenbeats store is packed with sounds, loops, and creative tools to expand your musical palette. Search by specific genre or access the entire collection with "Ultimate" to unlock everything inside Zenbeats.
Classic Roland Sounds and Themes
Awaken your music's possibilities with signature sounds from Roland's legendary TR-808, TR-909, and TR-707. Choose custom skins to match the vibe of your Zenbeats mobile or home studio. Launch themes include "808 Nights" and "909 Days," with many more to come.
Manage the Magic
Streamline your creative process by accessing and recalling song templates from a single dashboard interface. With Zenbeats, you can open, search, rename, even add personalized art to your songs. Save your work to GoogleDrive™, OneDrive, and other cloud-based locations. From there, share tracks with your musical partners and collaborate. Finally, when the time is right, show your work off online via SoundCloud®.
Beginner's Mind Meets Professional Power
Features like loop-building, beat-sync, and key lock make Zenbeats the perfect platform for aspiring songwriters, beatmakers, and producers.
As a bonus, included with Zenbeats are tutorials like "Using the Loop Browser," "Using the Audio Editor," "Advanced Drum Machine" tips, and others to elevate your music-making process.
Touch the Future
Roland Zenbeats' elegant, touchscreen interface places you in a tactile music-making zone. Zenbeats arrives pre-loaded with on-screen controllers, instruments, and effects. Tap, swipe, modulate, and pitch bend sounds using gestures with Zenbeats' on-screen instruments including drum pads, keys, and ultra-flexible note grid.
Experience all nine instruments and 14 effects with your free membership or upgrade to "Ultimate" to unlock external plugin support, automation graphs, and other features.
SYSTEM REQUIREMENTS
RAM 2GB (4GB or more recommended)
CPU Dual Core CPU or better
Storage 400MB of free disk space
GPU Intel(R) HD Graphics (or better)
Resolution 1200 x 800 (or higher)
Touch Support Up to 10 finger multi-touch (touch screen required for multi touch)
OS Windows(R) 7/8/10 (32bit and 64bit), macOS 10.11+, iOS 11+, Android 6.0+
Chrome OS systems supporting Android appsOtherTo use this software, an Internet connection and user registration/logging in to Roland Backstage are required.
Any communication expenses (packet communication fees, etc.) incurred while using this software will be charged to customers.
This software might not be available depending on your country or region.
User support for this software is available in English only. Support for Free version is not available.