Waves Complete v2017.04.19 Incl Patched and Keygen-R2R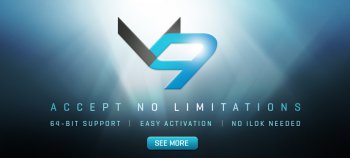 Team R2R | 20 Apr 2017 | 2.46GB
Featuring 64-bit support, faster scanning, faster loading, and faster processing, Waves Version 9 opens up new dimensions of high performance plugin power. From essentials like reverb, compression, noise reduction, and EQ to modeled analog hardware, surround and post production tools, artist signature collections and beyond, Waves Bundles feature the best of Waves GRAMMY award-winning plugins.
Changes since the last R2R release:
April 19th, 2017
- Version 9.91 across-the-board update of all Waves plugins.
- All plugins now have control mapping for Avid S3 and S6 control surfaces.
- H-EQ: New H-EQ Lite components that require less CPU and are well suited for live sound or when processing resources are limited. They do not include the Spectrum Analyzer and Analog sections.
- H-EQ: New Solo function - Any parametric band can now be soloed by touching its Frequency, Q, or Gain controls. This provides a momentary check of the band's processing. For a latching solo of a band, click on its solo button.
- H-EQ: New Smooth feature which eliminates noises that can occur while controls are moved in certain older H-EQ versions. When a session with instances of older H-EQ versions loads, 'Smooth' will automatically set to Off. New instances of H-EQ in new or old sessions will load with Smooth On.
- Nx Virtual Mix Room: Support for up to 6 Nx Head Trackers at the same time.
- Nx Virtual Mix Room: Nx Head Trackers can be renamed from the WavesHeadTracker application. The name is permanent and saved on the Nx Head Tracker device itself.
- Nx Virtual Mix Room: The Head Tracker's status color is now also shown in the plugin's tracking device drop down menu.
- Waves Central 1.3.1.4: Support for installing version 9.91.
March 29th, 2017
Waves Central 1.3.0.7:
- 'Update' feature added - Waves Central will indicate when updates are available for installed products.
- 'Repair Installation' feature added.
- Waves SoundGrid applications are now uninstalled together rather than separately.
- Shorter installation times on Windows.
- UX - bug fixes and improvements.
March 14th, 2017
- StudioRack - When used on HD Native systems, instances saved with SoundGrid processing no longer load as local processing.
- StudioRack - Fixed random audio corruption in Pro Tools when StudioRack is used in SoundGrid mode.
- SoundGrid Driver - On Mac, built-in microphone and built-in output now work with SoundGrid Connect.
- SoundGrid Driver - Mac OS System Integrity Protection no longer blocks SoundGrid Driver installation.
March 1st, 2017
eMotion LV1 Mixer (v9.14.0.31):
- Dugan Speech - New version of the Dugan automixer plugin for auto-mixing multiple mics in real time, designed for use inside eMotion LV1. (Purchased separately from the LV1.)
- Custom layers - You can now create your own custom layers - up to eight per mixer window - for super-quick workflow.
- DCA spill - You can now consolidate all the channels in a link group in order to view and control everything that's linked together, no matter the layer. The group's DCA fader is shown in the spill display.
- Two mix engine modes: low latency vs. low DSP consumption - You can now choose from two DSP modes, one prioritizing low latency, the other prioritizing DSP efficiency, based on the needs of your session.
- Mono Busses option - EFX and MON aux busses and matrixes can now be flipped between mono and stereo.
- New User-Assigned Shortcut Keys - Next/Previous Scene, Custom Layer, Spill.
- Update All Scenes - Store specific channel parameters in all the scenes in your session.
- Clear connections - Clear all visible patches with a click of a button.
- Delay Units display - Input/output and delay group values are now displayed in feet/meters /milliseconds/samples.
- Improved channel naming workflow - Press Tab to open the next channel name text box for editing in the Mixer window.
- No default route for aux busses - EFX and Mon will not be assigned to LR by default.
- Bigger Mute Group buttons.
- Mode per Layer - Each type of layer will retain its selected layer mode when you toggle between layers.
February 20th, 2017
MultiRack SoundGrid (v9.80.13.116) for DiGiCo SD consoles:
- Bug fixes.
- New plugins added: Waves Tune Real-Time, Scheps Parallel Particles, Greg Wells ToneCentric, Abbey Road Vinyl, Primary Source Expander (PSE).
February 16th, 2017
- SoundGrid Driver - Fixed installation issues on Windows.
- SoundGrid Driver - Fixed installation issues (user directory name can now differ from computer name).
- SoundGrid Driver - Fixed ASIO 4 All issues with SoundGrid Connect.
- SoundGrid Driver - Fixed built-in Mac audio device in SoundGrid Connect.
- SoundGrid Studio - Fixed sample rate changes in HDX systems.
- eMotion ST and StudioRack - Fixed crash upon quit when third-party plugin GUI is open.
- SoundGrid Servers - Firmware update and bug fixes.
- All SoundGrid I/Os - Bug fixes.
Flux WPAPI Shell : v1.2.0.44426
Flux WPAPI Plugin : v3.5.25.44426


* No Waves Central installation.
Official installer apparently have issues for some installations.

* Simplified new R2R installer.

* Including all Waves products except Tracks Live.

* Integrated all Flux WPAPI plugins.
Available from StudioRack, MultiRack and SoundGrid.

Always Better :)

download from free file storage