Best Service: Peter Siedlaczeks String Essentials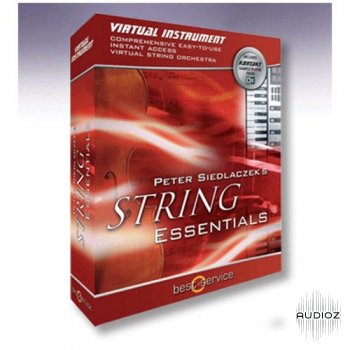 02.11.2006 | TEAM DYNAMiCS | 5 DVD | TOTAL RAR SIZE 14.75 GB
FORMAT....: VSTi/DXi/RTAS/AU
Peter Siedlaczek String Essentials Comprehensive and easy-to-use virtual string orchestra - 14 violins, 10 violas, 8 cellos & 6 double basses - no sampler needed.
Main features:
- 17 GB of samples in 5 lengths and 3 or 4 dynamic layers.
- 3 microphone placements: close (dry), normal and ambient.
- Immediate access to nearly all the playing techniques via key-switches.
- Fast and convenient sample character shaping using MIDI controllers (Accent, Expression, Crescendo Time, Portamento Depth/Time, Tempo, Run Shift, Release Time, Release Off, etc.).
- Additional realism with run and ornamentation tools.
- Release trigger.
- Multiple alternation switching - from double to quintuple.
- Surround.