FaderPro Power Progressions for Making Hits ACID WAV MiDi-KRock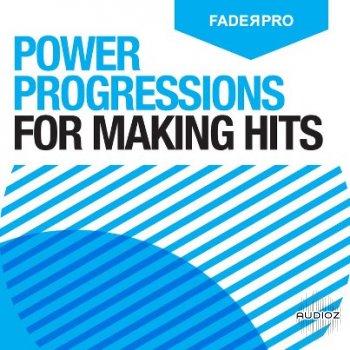 KROCK | ACID WAV MIDI | 330 MB
Power Progressions for Making Hits (Midi Pack) FaderPro is proud to present "Power Progressions For Making Hits" (PPFMH), a midi loop pack that not only will catapult your productions with instantly huge chord progressions, but will also help you unlock your own creativity and take your productions to a whole new level. Since every loop is a midi file, you can take any progression and tweak it to make it your own using your own synths for an even more powerful creative expression of your music!
The progressions in PPFMH were not created on accident or at random.
We have carefully crafted 30 progressions that represent every single Major and Minor scale and are organized in a very musical way. No more guessing what will sound good with what!
In addition, we have included "The Chord Library" which is a complete collection of the most common Triads and 7th chords in every major and minor key.
You can use these midi chord blocks to build YOUR OWN chord progressions with unlimited progression possibilities!
PPFMH is not only a powerful production tool, but also an invaluable learning resource that can help you identify new chords and unlock your musical creativity to create your own Power Progressions!!
What's Included?
30 Chord Progressions: There are 30 progressions to explore containing at least one from each major and minor key.
Each progression contains midi files of the main chord progression, as well as multiple bass line options for each.
165 Midi files: This is the heart and soul of the Power Progressions collection.
There are multiple midi files for each progression that give you the FULL control to examine the not es of each chord allowing you to tweak in any way you can imagine.
Feel free to invert the chords, layer them, transpose them, whatever your creativity tells you to do!
The midi files also allow you to come up with your OWN sounds and layers using your own instruments.
**note: you may need to transpose the midi notes up or down to get the desired sound, especially for bass elements.
The Chord Library (90 Midi Files): These folders contain virtually every chord used in each key.
We've included the the Diatonic Triads (those 3-note chords built on the the 7 notes found in each scale).
The Diatonic 7th Chords (the 4-note chords built on the 7 notes found in each scale) and some Bonus Chords (Semi-Diatonic Chords) which include the suspended V chord and other chords borrowed from the parallel minor of each scale that still can work very well for building chord progressions in each given key.
165 24bit/44.1K WAV preview files: We've created a template of basic sounds using a classic piano, modern synth, and cutting bass sounds to give you a preview of each midi file and progression.
Created by Hit Makers: PPFMH was created by mulit- platinum producer/remixer Vincent Di Pasquale (Madonna, Mariah Carey, Nelly Furtado, Timbaland, Nadia Ali), world-renowned dj/producer Steven Lee (Lee Cabrera, Strictly Rhythm, Talkback), and legendary pianist Bill Gordon (James Brown, Barbra Streisand, Quincy Jones, Madonna).
165 Midi Files (Chord Progressios) 90 Midi Files (Chord Library) 165 Preview WAVs Size: 428.7 MB zipped Genres: House, Tech-House, Progressive, Pop Folders included: (each folder contains multiple midi files for chords and basslines for each progression)
Progression 01_C Major • Progression 02_A Minor • Progression 03_G Major • Progression 04_E Minor • Progression 05_E Minor • Progression 06_D Major • Progression 07_B Minor • Progression 08_A Major • Progression 09_F# Minor • Progression 10_E Major • Progression 11_C# Minor • Progression 12_B Major • Progression 13_G# Minor • Progression 14_F# Major • Progression 15_D# Minor • Progression 16_C# Major • Progression 17_A# Minor • Progression 18_F Major • Progression 19_D Minor • Progression 20_Bb Major • Progression 21_G Minor • Progression 22_G Minor • Progression 23_Eb Major • Progression 24_Eb Major • Progression 25_C Minor • Progression 26_Ab Major • Progression 27_F Minor • Progression 28_Db Major • Progression 29_Bb Minor • Progression 30_Gb Major • The Chord Library The Preview Beats.