Rhythmic Robot Audio Strings 202 KONTAKT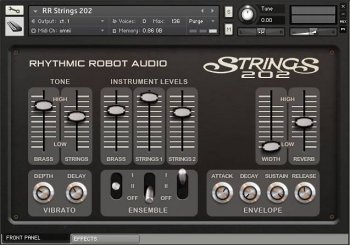 MERRY CHRISTMAS!
24.12.2018 | KONTAKT | 850 MB
Roland's RS202 disco-era analogue string synth reborn

The strings that soared above a thousand Disco hits! • Roland's classic Ensemble / Chorus effect gets its first outing • Warm yet gritty analogue tonality – a great contrast to more polite string synths

Roland's RS202 hales from 1976, and was something of a landmark product for Roland. It featured the first outing of the classic Ensemble / Chorus effect that would later grace the Juno and Jupiter lines, and which contributed in large part to the warmth and movement of Roland's big analogue machines. You saw it here first, folks ????