sound DUST STRINGPOOL KONTAKT-DECiBEL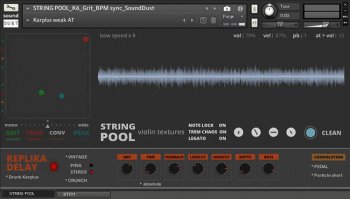 Team DECiBEL | 01 Aug 2020 | 2.31GB
STRINGPOOL has 2.5GB of beautifully played clean and brutally textured violin bowing with BPM synced modwheel speed control - play a note and move the modwheel to bow faster or slower, push down on your keyboard for aftertouch controlled volume swelling.
The design process of STRINGPOOL meant forcing virtuoso violinist Sophia Bartlette into many painful days of tortuous sampling (nobody really enjoys sampling - don't ever let them make you think otherwise). While they quietly slurped coffee Sophia teased hours of beautifully lyrical long bowed single notes from her 200-year instrument. For every note, four different bowing speeds with a hint of vibrato.
From these hours of recordings, they created hundreds of seamless, clean single note loops and an alternative set of 'treated' samples mangled through tape, valves and Sound Dust malarky.
Then it was all poured into a complex Kontakt engine with a simple interface and wealth of expressive possibilities.
The true joy of STRINGPOOL is that you can morph in realtime through the BPM synced bowing tempo divisions with the modwheel (or CC1) while also using your keyboard aftertouch (or a CC of your choice) for volume expression to create realistically human violining sounds. Also every control can be automated in your DAW or midi learned for unrealistically human violining sounds.
STRINGPOOL may never sound 'quite' as good as Sophia in full flow - but for MUCH less pain you can get a little of her magic and a little bit of Sound Dust magic on your tracks.
Whats Inside ?
- 2.44GB download - requires a healthy chunk of computer RAM
- Versions for Kontakt 5.8 and Kontakt 6.1.1
- 6 instruments (.nki) per Kontakt version
- BPM synced - Chorus, Filter and Grit
- Low CPU 100BPM - Chorus, Filter and Grit
- 75 starter snapshots (total)
- 2 sample sets - CLEAN and TREATED
- Classic Sound Dust RTFM instruction manual built into interface
Waveform section
- Modwheel hardwired to bowing speed control (or use CC1) - tempo synced
- Realtime waveform display
- Master volume control - cc map-able (handy instead of aftertouch for expression)
- Velocity to volume control
- Pitch bend depth - from 1 semitone to 12
- Aftertouch to voulme control - for handy expression control
- Volume attack, decay, sustain and release
- Clean or Treated sample set selection
- Note lock control - spreads last played note across whole keyboard for crazy old school sampling.
- Trem Chaos - randomises tremolo lfo shape (but still tempo synced)
- Legato - sets sample set to legato mode - new note play continues from last note position
- Precise readout of XY pad control values
- Convolution impulse select - 80 custom made IRs - 8 categories- 10 impulses per category
XY pad
- Tape saturation + distortion, chorus or low and high pass filter - depending on .nki
- Tremolo - frequency (tempo synced) X - depth Y
- Convolution - amount dry X - amount wet Y
- Solid G equaliser - 1 band = 600 hz to 7 khz- frequency X - amount Y
- Midi learn triangles - for external controllers to learn XY pucks
- Stereo width control - from mono to w i d e
- On/off and reset controls per effect (click effect icon)
Kontakt 6 version
- Replika delay - 5 amazing sounding delay machine types
- 20 Replika delay presets