In Session Audio Riff Generation KONTAKT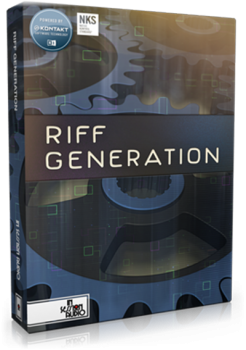 FANTASTiC | 06 March 2018 | 2.35 GB
Based around a set of musical parameters that you control, Riff Generation creates exciting, complex and surprising combinations of melody, rhythm and sound design with the press of a button.
ONE ENGINE – FOUR BENEFITS
SOUND
Heavy-duty sound design through the generative process, creating riffs that can glide, stutter, burst through effects and change sound on a step-by-step basis.
ADAPTIVE
Riffs adapt to tempo, key, scale and currently played note.
GENERATIVE CONTROL
A musical range of options allow the generative process to be directed by the user.
LOADED
Song starters, ambient melodies, basslines, noisy leads, pluck-laden pulses and generation templates spread over 325 patches.
BONUS
Every Riff Generation owner receives access to the Video Manual.
Gain a complete working knowledge of Riff Generation in about 20 minutes through a series of short, easy to navigate videos.
SOFTWARE: Riff Generation runs in Kontakt or the free Kontakt Player 5.6.1 or higher (requires a minimum of Windows 7 or Mac OS 10.10).