Spitfire Audio Spitfire Solo Strings KONTAKT-Minified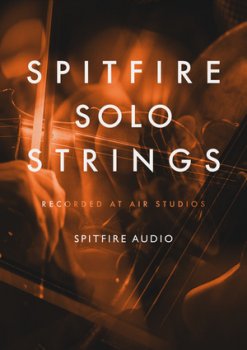 P2P | 29 July 2021 | 4.08 GB
Sometimes you need the intimacy and detail of a single voice to rise above the force of an orchestra. Reach for Spitfire Solo Strings, featuring exceptional first-call London virtuosos, ideal for adding individuality and definition to your scores and production. Solo Strings is designed to stand out, but also to fit in: this entirely new library sits perfectly alongside the Spitfire orchestral ranges, utilising the same location, peerless signal chain, mic positions and range of articulations that make up the DNA of our high quality orchestral packages. Single players, recorded in the acoustic luxury of The Hall at AIR Studios, captured on rich sounding 2" tape.
Six years ago, Spitfire released the original Solo Strings, one of our first ever libraries. Since then, we have clocked up over 2,500 hours of sampling experience, so we knew it was time we revisited these essential instruments. They can add individuality and definition to big string writing, as well as capture soaring solos for film, games or pop music. Think of the solo violin in John Williams' score for Schindler's List, Fratres by Arvo Pärt, John Corigliano's Red Violin, or the cello carrying the Game of Thrones theme.
Soloists are exceptional players, and capturing them on a recording presented unique challenges. We needed to go beyond expectation, making each instrument versatile enough to match the emotional temperature of your music, offering a vast range of mic positions and articulations to blend perfectly with our Symphonic and Chamber collections. Our new solo violin can be played in three distinct modes and was performed by three distinctly different players: Virtuoso, 1st Desk and Progressive, each containing not only their own range of articulations, but also a range of recording locations in the hall and different styles of performance. Virtuoso, with a standing player, captures the sound of a sonata, or a featured soloist out in front of the orchestra performing in a 'concerto' style. 1st Desk was recorded on the front desk of the first violins, perfectly placed for adding individuality and definition to a string line, while still able to blend in with the section. Our "1st Desk" performer plays "out", leading the orchestra. Our progressive player was recorded further away from the conductor, designed to fit into larger string sections, or offer up solo passages in a more contemporary vernacular, opening the door to a modern, filmic sound of extended techniques including "Mandolin pizzicato" and "Tremolo whispers".
These three violins are joined by three exceptional string players on viola, cello and double bass, all with an equal attention to detail and depth of sampling. This gives us an exceptionally versatile set of tools that can create anything from a single searing cello line to multiple parts added to larger sections, providing added definition and personality and bringing together a very unique sextet of players with unprecedented control and malleability.
For Solo Strings, Spitfire had the privilege of working with a group of internationally acclaimed musicians with a goldmine of experience as first-call soloists. These players can be heard all over major Hollywood films. Featuring Jack Liebeck (violin - Virtuoso), Clio Gould (violin - 1st Desk), Thomas Gould (violin - Progressive), Max Baillie (viola), Richard Harwood (cello) and Leon Bosch (double bass), Solo Strings is a no-compromise library, recorded in an exceptionally resonant acoustic space.
As with many Spitfire libraries, we returned to the iconic Hall at AIR Studios to record Solo Strings. Scores such as Dunkirk, Beauty and the Beast, Wonder Woman and Paddington 2 were recorded there recently, as well as classics such as Harry Potter and the Philosopher's Stone, The Dark Knight and Gladiator. Solo Strings was recorded by award-winning engineers, who captured each soloist using world-class equipment: priceless ribbon and valve mics through Neve Montserrat preamps, the largest 88R Neve console in the world, onto pristine 2" tape before being converted with the top-of-their-class Prism AD converters at 96k. There's a reason that this hall has been the choice for Hollywood directors for decades.
Our highly intuitive Solo Violin (Virtuoso) and newly added Solo Cello Total Performance instruments are included in Spitfire Solo Strings, and are also available to purchase as separate Kontakt Player libraries — follow the links below to find out more. At your fingertips are our most detailed and advanced solo violin and solo cello to date, performed by world-renowned virtuoso concert violinist Jack Liebeck and concert cellist Richard Harwood respectively, in The Hall at AIR Studios. Each contains all of the techniques you need to create a realistic solo performance, including five different types of true legato — fingered legato, bowed legato and portamento legato, runs and arpeggios. They also feature spiccato, staccato, tremolo, trills, molto vibrato, progressive vibrato and non vibrato (as well as pizzicato and Bartok pizzicato for cello) — all combined together to enable musical phrasing without the need for key-switching, and programmed to react to playing speed and touch. Easy to play and ultra intuitive, these instruments allow you to focus entirely on your composition, without the need to 'stitch' together performances.
— — — — — MINIFIED INFO — — — — — — —
Since I like to have many Kontakt libraries but don't want to fill my hard drives with them, I minify them, keeping only what I really need from them.
Some articulations were already missing from the original release that I used, but fortunately not some that I wanted to keep..
— Library size is 4.7GB (from ~ 42.8GB)
— Added a Convolution Reverb and repurpose the original "Close/Far" slider to control it.
— Added menu to select IR type from the UI - "Reverb: Chamber" or "Reverb: Hall"
— All samples are 16bit
— Only the "Close" mic exists
MINIFIED ARTICULATIONS

Spoiler:
REMOVED ARTICULATIONS

Spoiler:
Reuploaded. PiRAT