Circles Drum Samples Garage MULTiFORMAT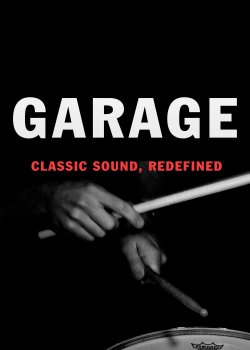 MULTiFORMAT | AudioZ Exclusive | 2.66 GB
The Garage is that familiar place that we all know. It has immense character, it's dirty, it's unpredictable and that's exactly why we decided to make the most advanced and in-depth drum sample library, completely inside this unique space.
We sampled everything from kick drums covered in dirt to restored vintage Rogers and Ludwig kits using Neumann, Neve and API gear.
We treated this place like a studio, and abused it like a garage.
KICKS:
We sampled 12 kicks in intense detail. Everything from refurbished 1970's Rogers and Premier kits, to old kick drums covered in dirt. We don't discriminate based on looks.
Most kicks have 50+ layers of multiple velocity samples. Some of the crazier drums (i.e. the ones we ran through amps and $5 mixers) have around 5-25 velocity layers.
All of our samples have been deeply integrated into software presets so you don't have to do any work.
SNARES:
We like fat drums as much as you do, so we sampled 20 of them. This collection of snare samples does not disappoint. We got those deep snares, but also weren't afraid to crank some of these up for a more modern sound.
Most snare samples have 100 velocity layers already integrated into our presets. This deep sampling allows for ultra-realistic programming and replacing. We've also added several oddball snares for some extra enjoyment. Check out the Mix Assist folder for some useful sounds to amp up your tracks.
WE GOT WEIRD
DRUMS THROUGH AMPS, BINAURAL MICS & THE GARAGE DOOR
Inside the garage, we were not scared to experiment with sounds. We ran kicks and snares through old analog mixers and then into our 1964 Sears Silvertone amp. Whoa.
In addition to our arsenal of vintage drums, we wanted to be sure to capture unusual sounds, like the garage door, shovels and dust pans. So, we dragged our Neumann Binaural microphone around and did just that.
Pure sonic bliss.
TECH SPECS:
3,500+ Samples
All Samples are 24 Bit / 44.1 KhZ WAV
4.28 GB of files
Software Presets for: Ableton, Battery 4, Kontakt, Logic EXS24, Maschine 2 & Slate Trigger 2
Multiple Velocity Layers
100+ for snares, 50+ for Kicks & Toms and 5-25 for folders/samples marked "Z"
Round Robins on select drums/sounds/presets
Royalty Free
Instant Download (links sent to your email and available in your Circles account anytime)
All purchases are eligible for software preset updates
MIXED BY: JASON LIVERMORE
ENGINEERED BY: TYLER LINDGREN & STEFAN RUNSTROM
PRESETS:
SLATE TRIGGER 2
» 70+ Multiple Velocity & Round Robin (.TCI) files
» 40+ Preset (.PRS) files
» Close & Room Components For Most Samples
BATTERY 4
» Multiple Velocity & Round Robin Sequencing
» 65+ Preset Kit Configurations.
MASCHINE 2
» Multiple Velocity Samples
» 65+ Preset Kit Configurations
KONTAKT
» Multiple Velocity & Round Robin Sequencing
» 65+ Preset Kit Configurations.
*Must Have Kontakt Full
ABLETON
» Multiple Velocity Samples
» 65+ Drum Rack Presets
LOGIC EXS24
» Multiple Velocity Samples
» 30+ Presets
This release has been exclusively provided to AudioZ by our member who wishes to remain anonymous.