REQ: Record Plant Remote - Reel Drums Volume 1 Joe Franco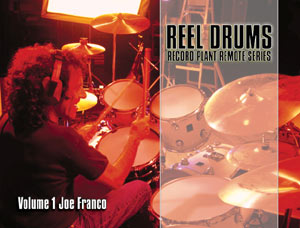 Reel Drums was developed by Gil Griffith and Chris Richmond of Wave Distribution. Together, with Victor Mancusi and Joe Franco, they pooled ideas together and came up with this package. The concept of Multi-track Drum Loops appealing. There are lots of Stereo Drum loop packages available today, but for Rock & Pop Music Production, it's essential to have control over the individual drums and ambiance of the kit.
Reel Drums is available in Pro Tools 5.1, Nuendo/CubaseSX .npr, Digital Performer, or Acid and REX formats.
- 3 CD's total.
- 24 Bit Stereo CD-ROMS.
- Now supports ACID and REX!