Toontrack Music City USA SDX v1.5.0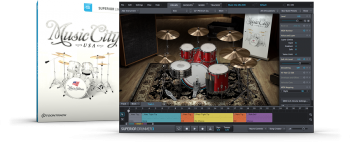 SDX Sound Expansion | FULL - 11,44 GB | Update ONLY - 1,03 GB
BIG, WARM AND GENUINE.
Premier drum samples recorded to perfection that you hone, mold and shape to fit in any style of music – from country to pop, rock and soul.

With more labels, publishers, writers, producers, musicians and artists per capita than any other city in North America, the fact that Nashville, TN is nicknamed Music City, USA surprises very few. So, if you set out to record great sounding all-round drums with an obvious hint of that million dollar country music-sound the city is so known for, where do you go? Yes, to the place where the lion's share of all chart-breaking country productions are made – you go to to Music City, USA.