CDSoundMaster VTMC-M2 v1.1 CE Rev2-V.R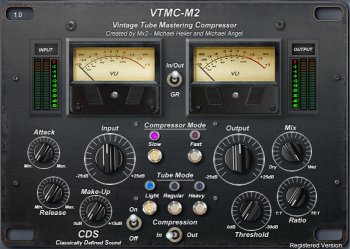 Team V.R | 07 Jan 2018 | 5.08 MB
The VTMC-M2 is the second Plug-In designed by Michael Heiler and Michael Angel. The sound system, signal chain, and processing design is an original concept created by Michael Angel that began back in 2005 and took until 2009 to begin implementation. Michael Heiler provided the perfect coding and development partnership to bring this process to fruition in VST Plug-In form. This made for the development team "Mx2" under exclusive release by CDSoundMaster. The VTMC-M2 stands for "Vintage Tube Mastering Compressor" developed by "Mx2" or "Michael Times Two". The original concept for the signal chain developed by Michael Angel of CDSoundMaster is called "Virtual Interactive Signal Chain Technology", and has been brilliantly executed in code by Michael Heiler.