Kadenze - Creative Audio Programming on the Raspberry Pi (Session 10)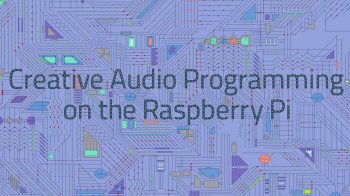 Articstorm | 680 MB | MP4
In this course you will learn the essentials of programming real-time audio software, applying these skills to making your own audio devices, and more generally the exciting world of the Internet of Things. You will use the Raspberry Pi as a rapid prototyping platform, exploring the creative potential of real-time sensor and network interaction, combined with real-time sound generation, creating systems that respond to sensor input, communicate with other devices and play sound. Make your own musical instruments, develop devices for sonic artworks, and create new sound design concepts for sonifying everyday objects. Through this course you will develop a basic understanding of audio programming and the core concepts behind programming for the Internet of Things. You will be able to conceptualize and design your own innovative interactive devices.